This post contains affiliate links.
This summer we are taking our kids on their first trip to Walt Disney World. They just found out about the surprise a few weeks ago. At the end of this post I will show you how we revealed the trip to them, but first I have a fun Mickey and Minnie lunch to share.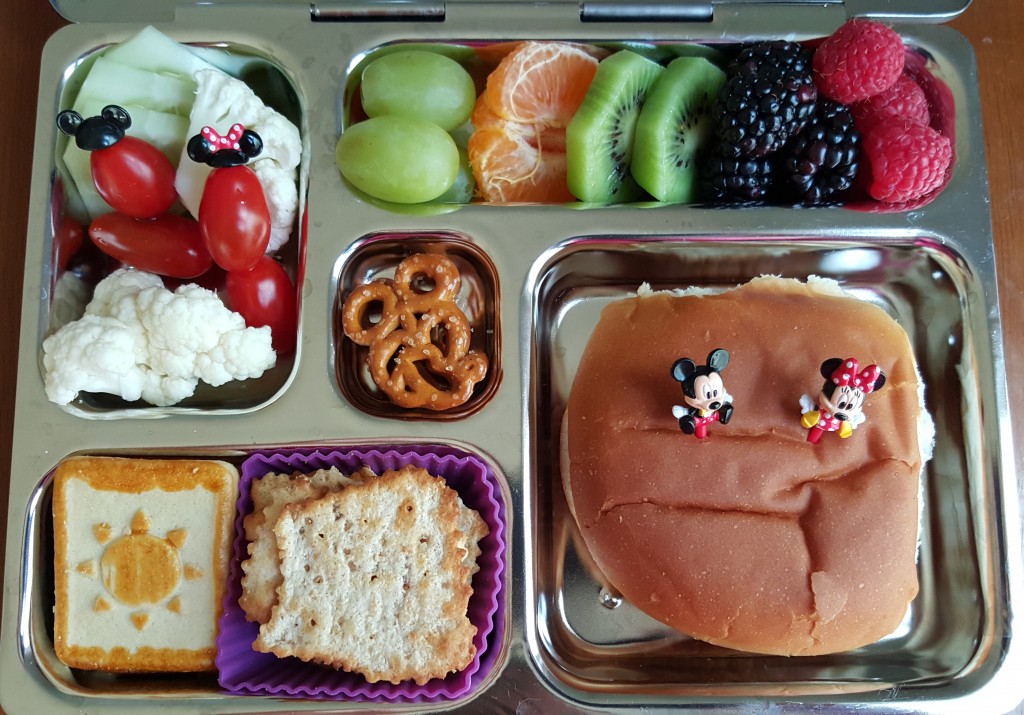 This lunch was packed in our Planetbox Rover. It is one of my favorite lunchboxes because of its durability, variety of compartment sizes, and the fact that food just looks great it it. Seriously, check out those colors in the photo above – they are BEAUTIFUL! I packed this lunch for my husband. He had cucumber slices, cauliflower, and tomatoes, along with grapes, half a Cutie, kiwi slices, blackberries, and raspberries. The bun was for barbeque chicken (packed separately for heating). He also had some Wheat Thin chips and a couple of shortbread cookies. I chose the cookie with the sun on it for the top because Disney World is in Florida, the "Sunshine State". I had saved the Mickey pretzels from a Valentine's Day treat one of my kids brought home from school (they were cute, but not especially fresh

).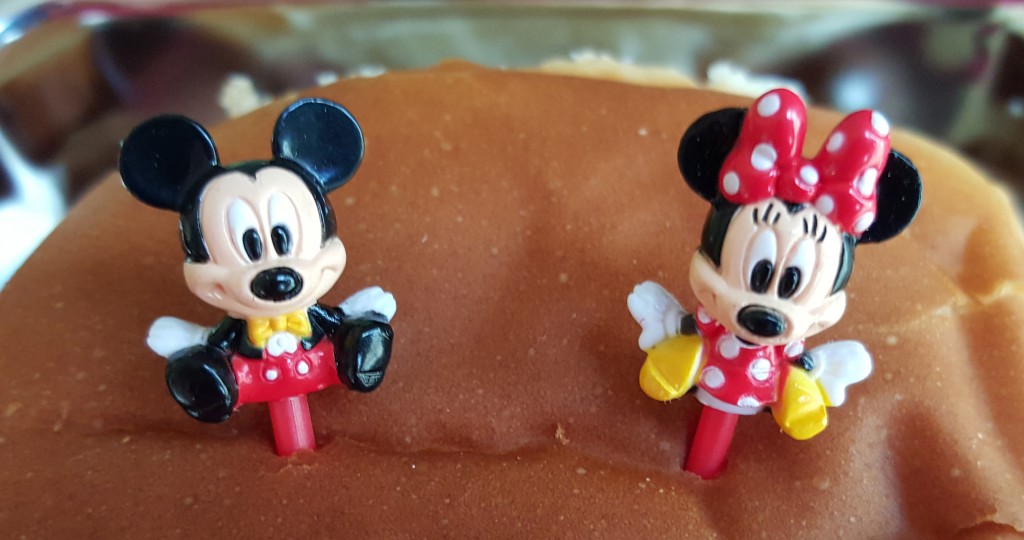 The cute Mickey and Minnie picks are from the Tokyo Disney Resort. Aren't they a-d-o-r-a-b-l-e?!?!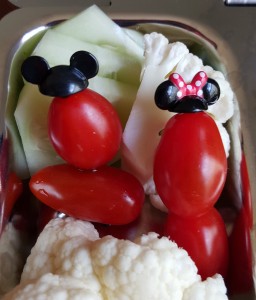 And, the little hat picks look just like the iconic souvenirs. Have you seen the episode of The Middle, where Brick spends most of his day at Disney contemplating the options for creating his perfect Mickey hat? Our family likes that show and we think that episode (The Wonderful World of Hecks) is funny.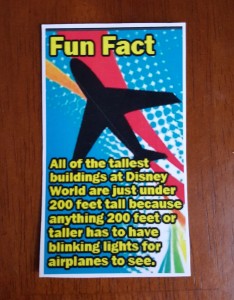 Along with this lunch, I included this lunch note from WDW Prep School.
Now, on to the part about how we told out kids about this special trip. I made a collage of places we will go and things we will do including Animal Kingdom, Epcot, the monorail, the Beauty and a Beast castle, our Disney resort, and a plane. For the main picture, I chose an image of Cinderella's Castle to represent Magic Kingdom. I thought this would be more recognizable to my kids since they have seen it at the beginning of many movies. After I created the collage, I made an overlaying table with numbers in the corners so I could cut the collage into "puzzle" pieces. I then printed the collage and cut it apart. I divided the pieces into four bags so that the most revealing pieces were in the last bag and those with more general colors or fewer giveaway clues were in the early bags. I also printed a the numbered table (shown below) by itself so we would know where each numbered piece of the puzzle belonged.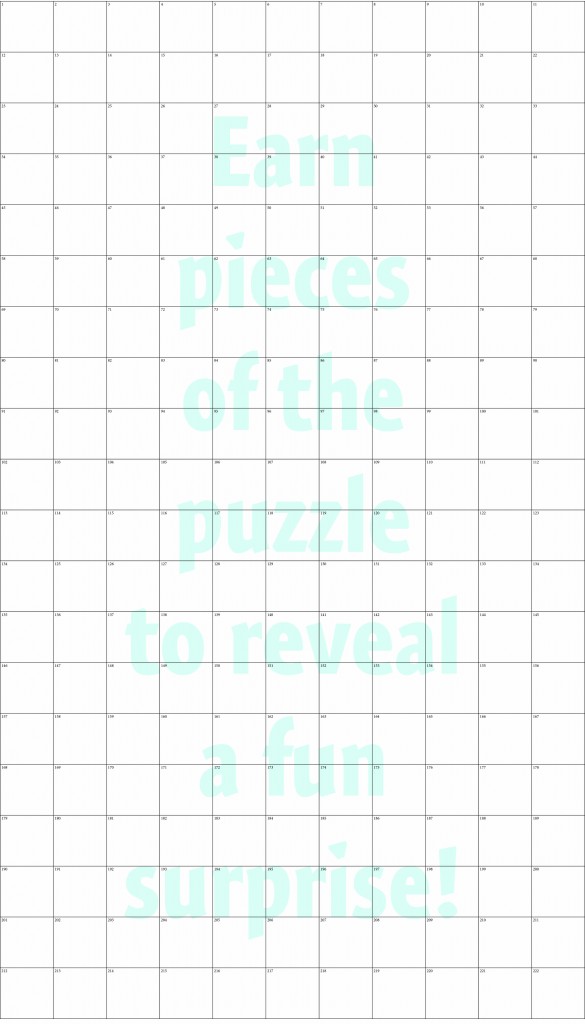 I explained to my kids that they were going to have a chance to earn puzzle pieces that they could assemble over a few weeks to reveal a nice surprise. I then let them help create the list of things they could do to earn pieces of the puzzle. My daughter was especially interested in generating ideas for this list and invested effort in creating a variety of choices as well as choosing the correct words to use. She even picked out the font for the list and decorated it after we printed it. You can see the list below. We posted it above the numbered table.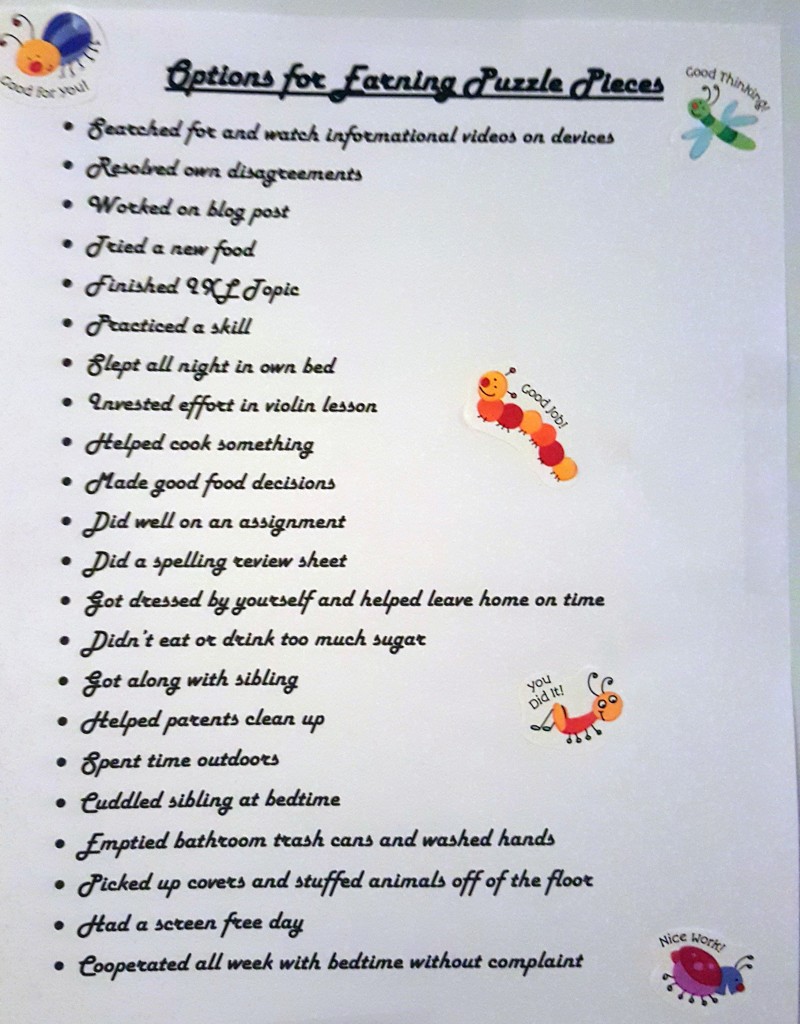 Both kids enjoyed the anticipation of the surprise and the incentive of earning pieces of the puzzle motivated them to do a few things more willingly. It was fun to  hear their guesses of what the puzzle was going to show. It was also sweet to hear what they had to say as they began to guess that it *might* involve Disney.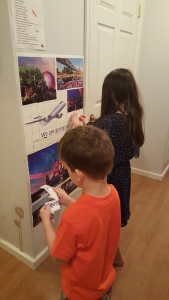 Below you can see a progression of the puzzle as it came together.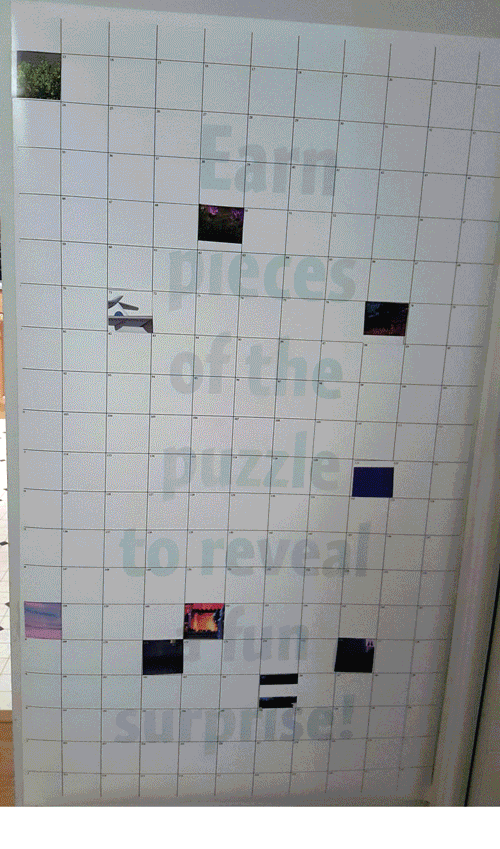 This was fun for our whole family and we are definitely looking forward to our upcoming trip. We made a countdown using the printable I found here. I also got my kids a copy of Birnbaum's 2016 Walt Disney World For Kids so they could read about the parks together and think about what they might like to look forward to doing. They also started searching on YouTube for videos of many of the attractions; my son got really into watching those one Saturday.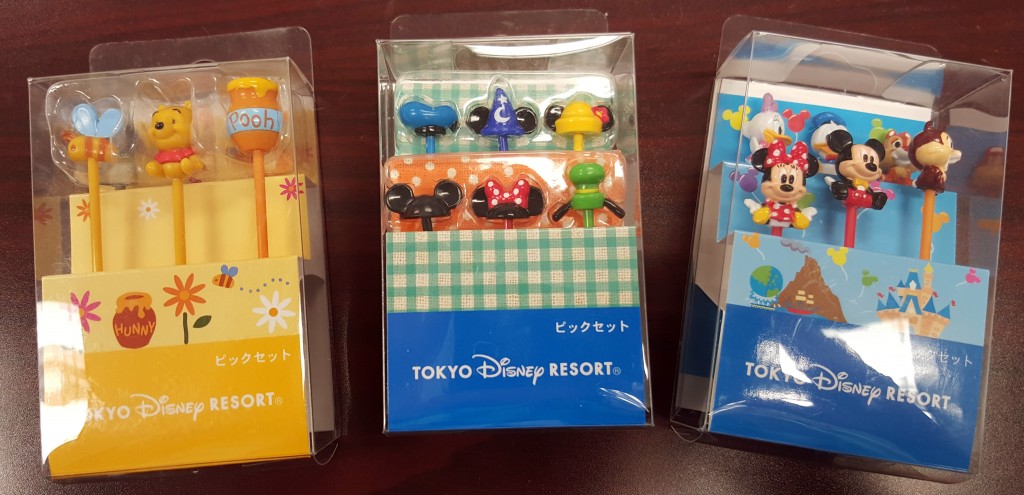 I was super lucky to get my hands on these sets of picks as they are very hard to come by in the United States. I have my friend at Bento Ninja to thank for hooking me up with these. Please come back and visit my blog again soon because I will be sharing lunches packed with some of the other picks in the coming weeks. So far, I have packed lunches using nearly all of the characters above so check back soon for the posts featuring Winnie the Pooh, Donald & Daisy, as well as the Chipmunks.