This post contains affiliate links.
In this post, I will share photos from fun times we had in the France pavilion at Epcot, pictures of French food we tried in the pavilion, and meet and greets with Belle in three different outfits. I will share these in mostly chronological order ending with recent France-themed lunches I packed my kids for school.
First up is a picture from our my kids' very first day ever at Walt Disney World. We started that trip at Epcot and meeting Belle in the France pavilion was one of the first things they ever did in World Showcase. It was a hot summer day, but you can see a look of pure joy on our daughter's face. She has always loved Beauty and the Beast and had every word memorized at age three. Meeting Belle and getting her autograph was a super special moment on that first trip!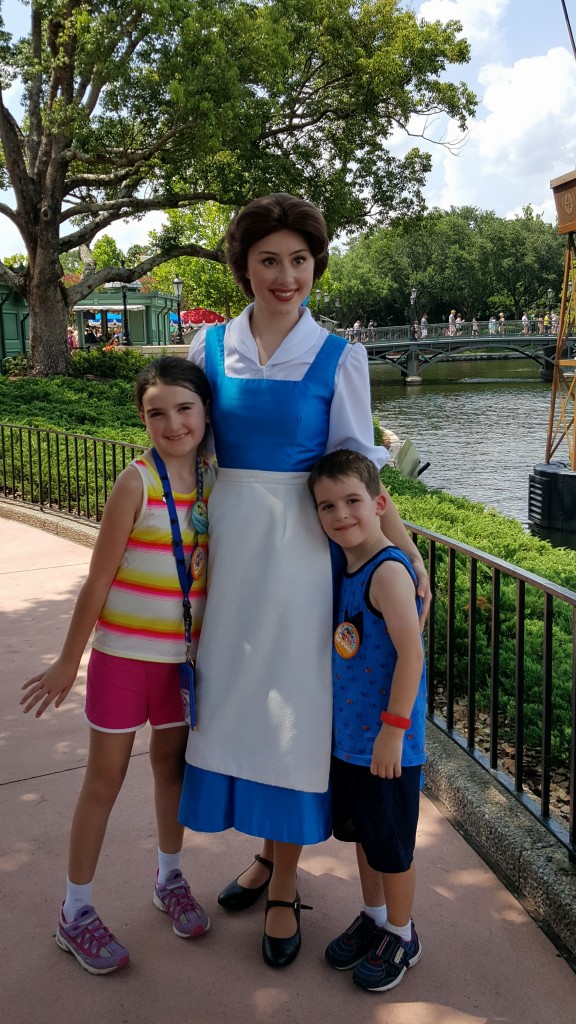 A few months later, we went on a second family trip to Walt Disney World. During that trip, we ate at Akershus Royal Banquet Hall and met Belle in her yellow gown. (Akershus is in the Norway pavilion so it isn't technically a France pavilion memory, but it is a place where you can meet Belle in this ballgown.)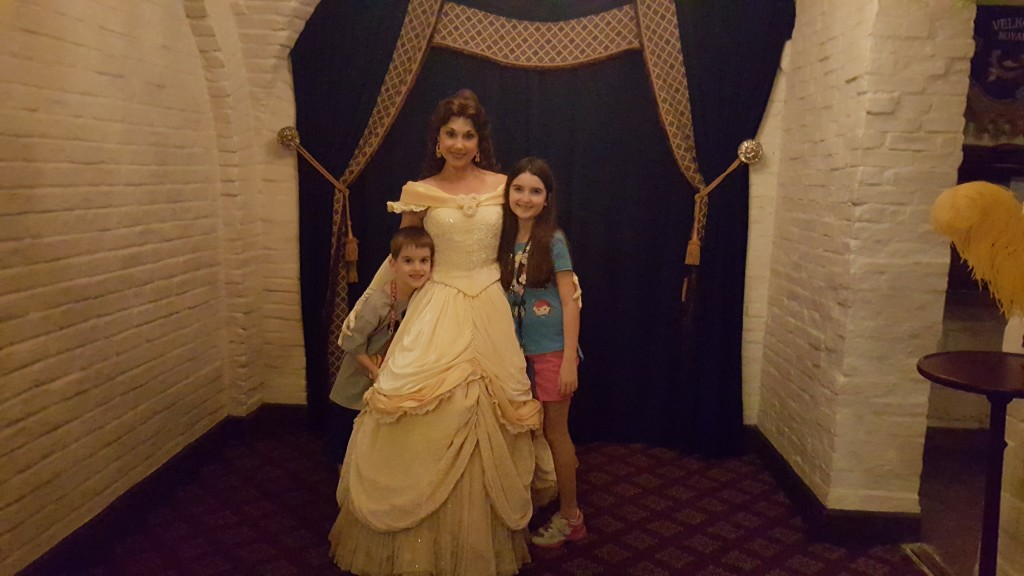 A little over a year after our first trip, we visited Epcot during the Food and Wine Festival for the first time together. We were surprised to find that our daughter loved the idea of trying new foods from around the world during the festival. One of the things she was excited to try was escargot in the France pavilion. She ate some of it, but it wasn't her favorite thing she tried. I shared it with her. I thought it was okay, kind of like a mushroom stuffed croissant.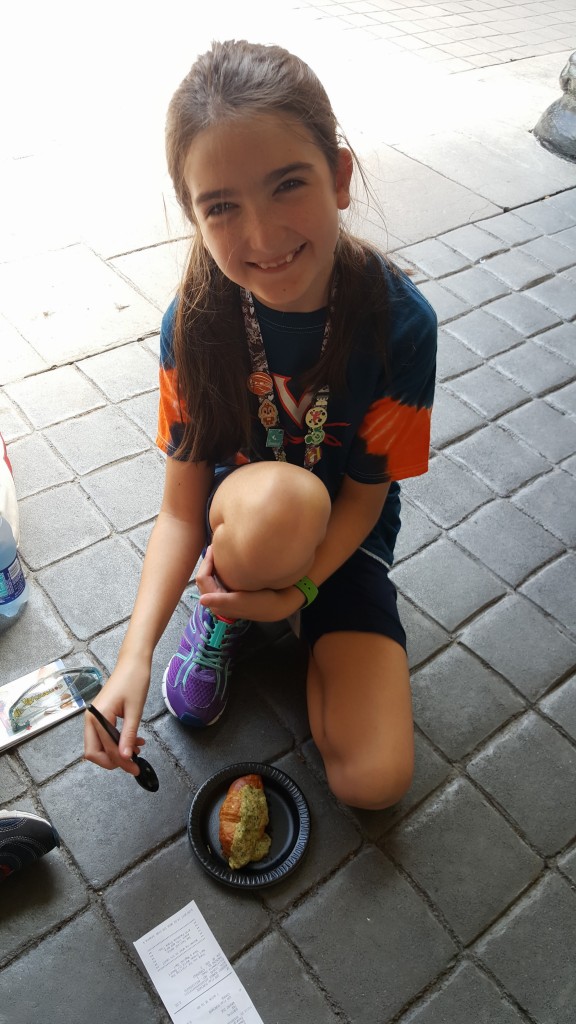 My son and husband were not willing to try the escargot. They stuck with the "safer" option of creme brulee.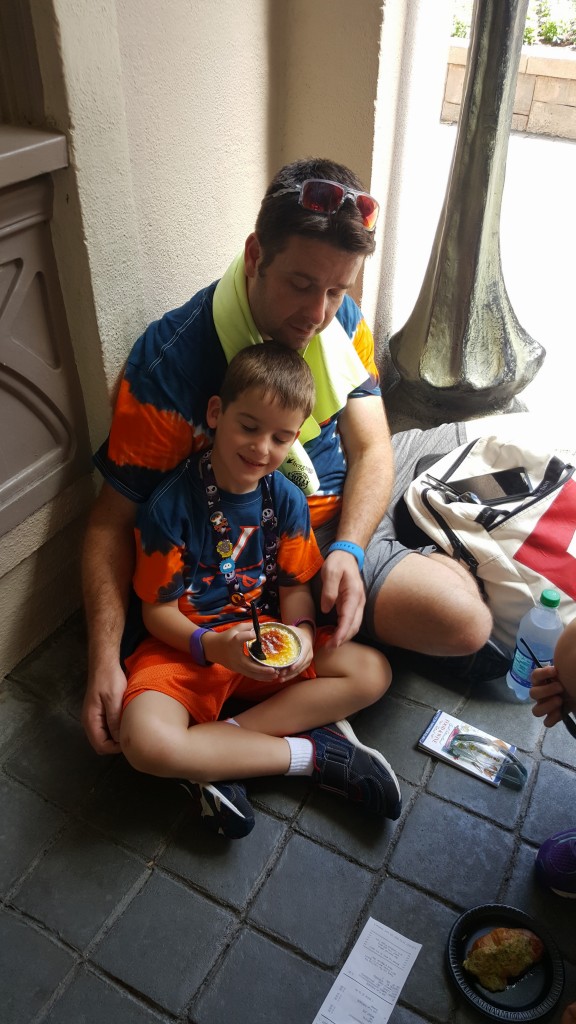 During that trip, we also visited the Kidcot station in the France pavilion and went to the Les Halles Boulangerie-Patisserie. Our kids love baguettes and macarons so we had planned to stop by there for a special snack.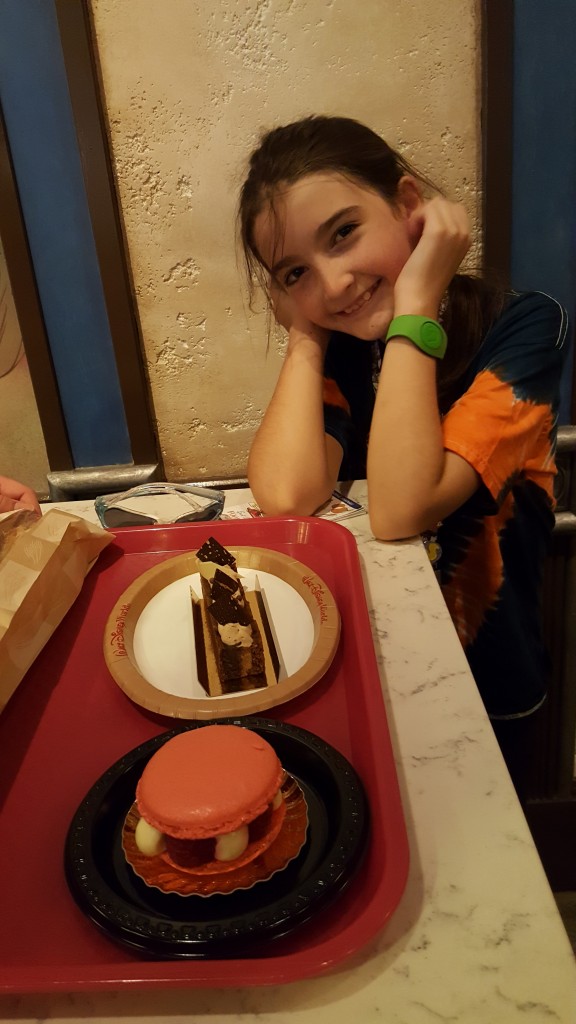 The following summer we ate lunch at Chefs de France. We were happy to get a corner window seat so we could see out by the fountain in the pavilion.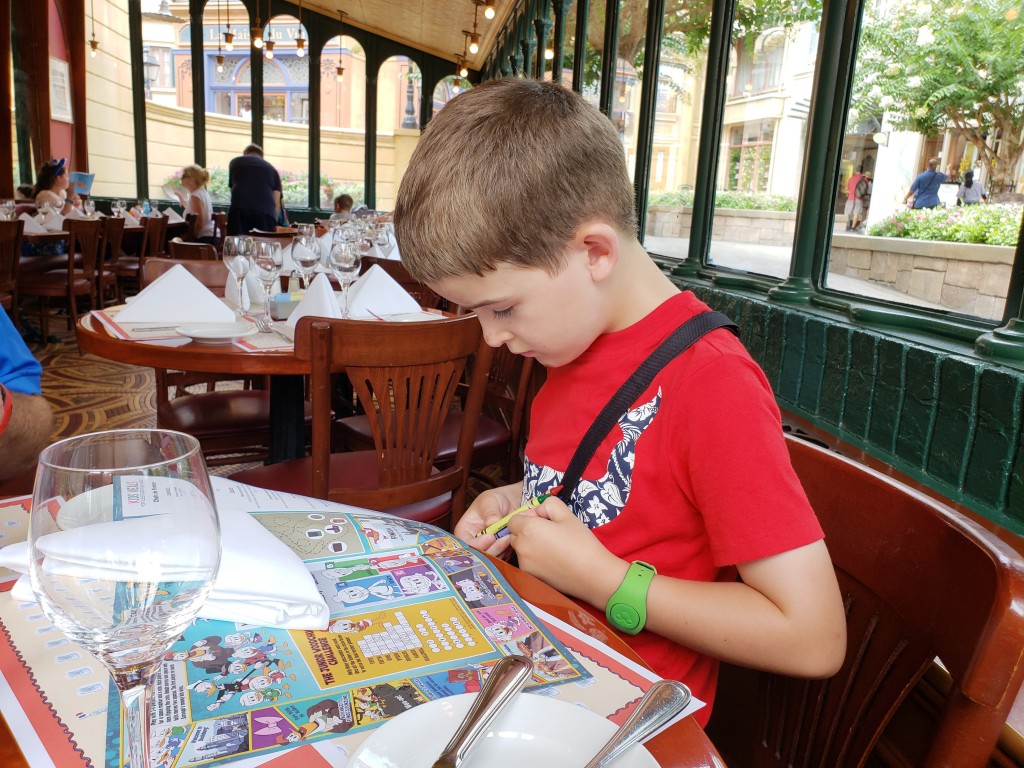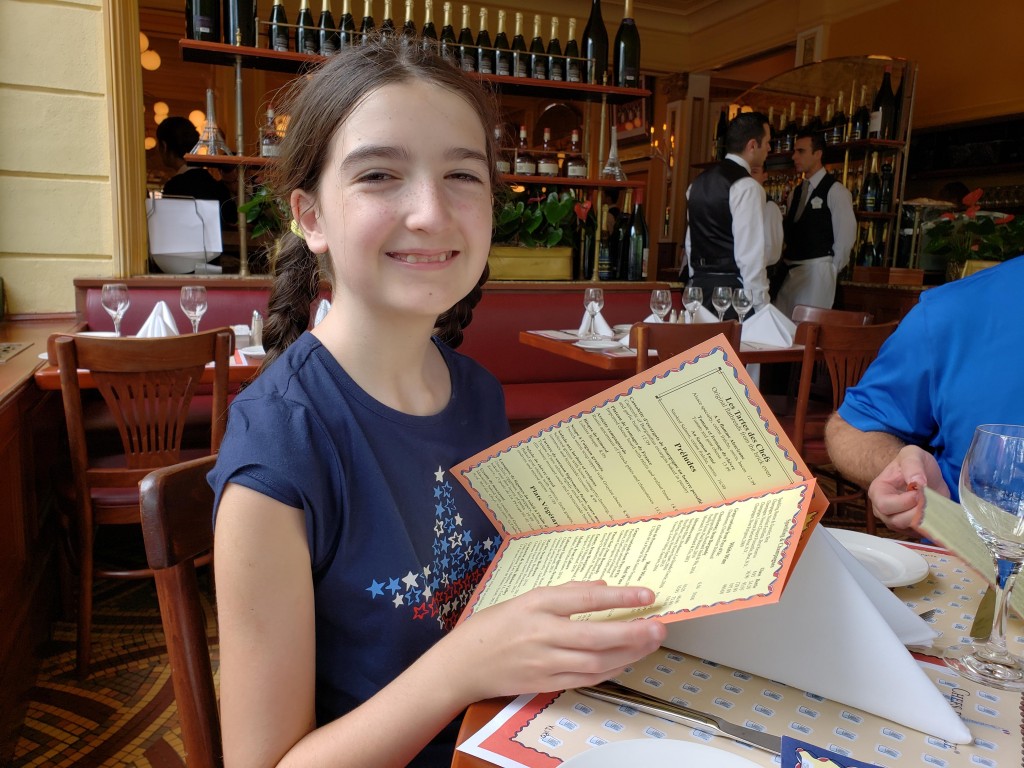 On that trip, we had free dining as part of our vacation package bounceback offer. Each meal included a special drink so our kids ordered French sodas to try. They both enjoyed their selections.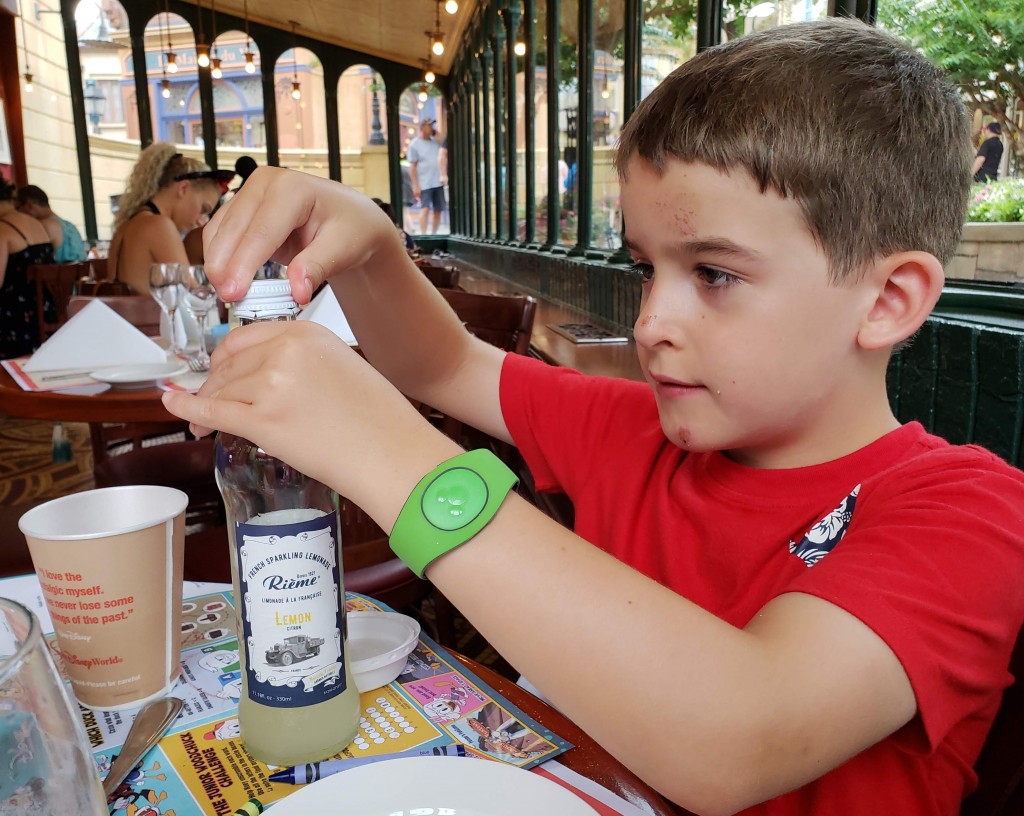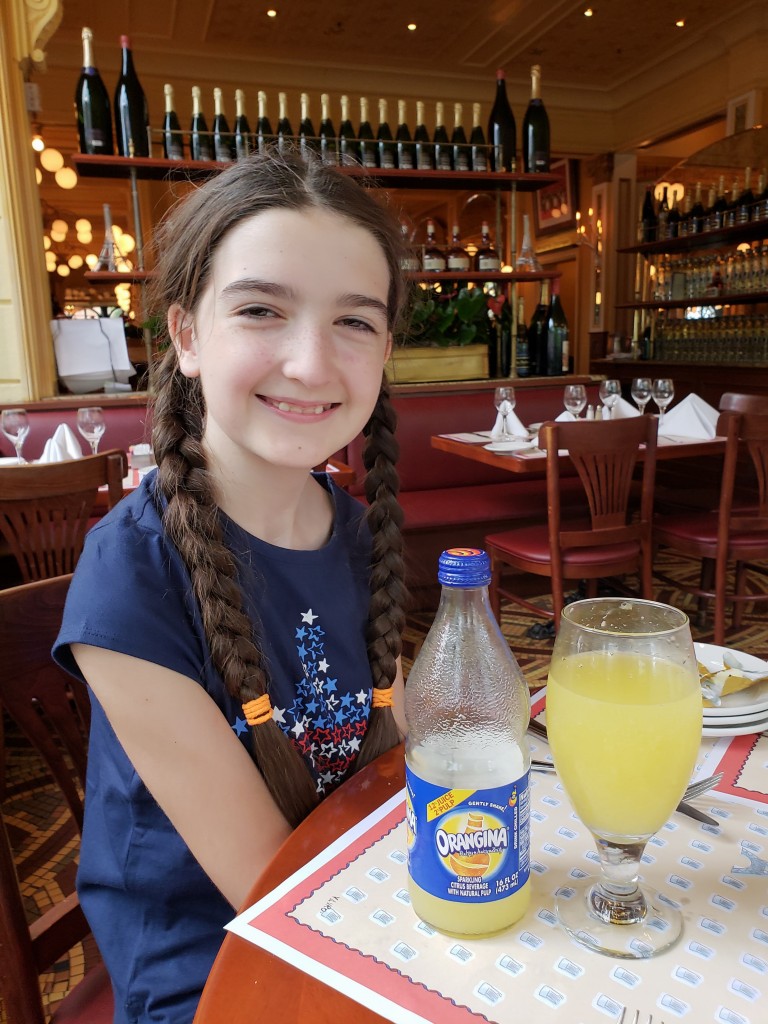 The baguettes here were fresh from the oven. They were excellent. We asked for an extra for our son to have later.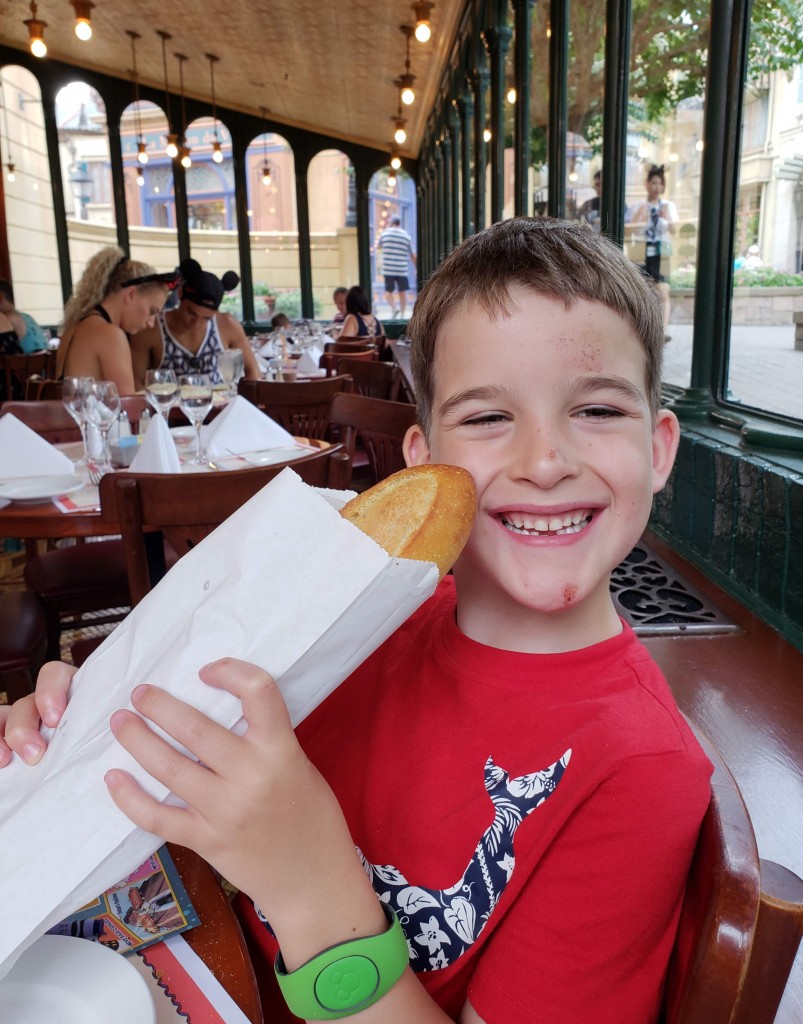 My husband and I both had the Bisque de homard (Lobster Bisque) for our appetizers. It was delicious.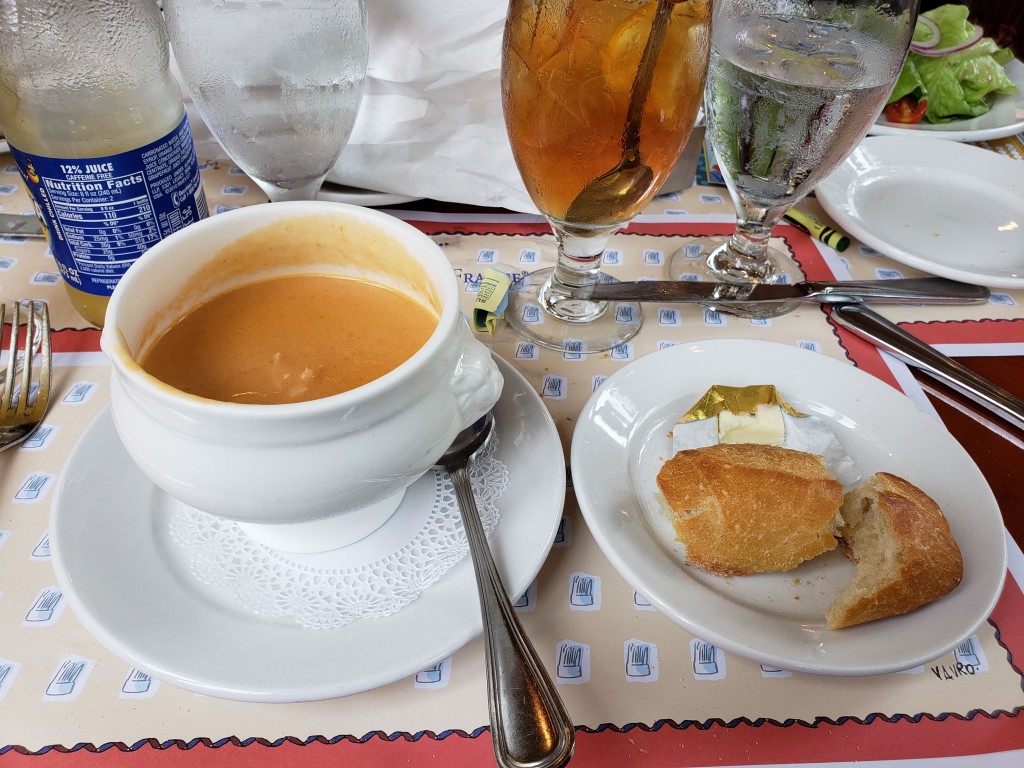 Our son had a salad for his appetizer. I think our daughter skipped the appetizer since I don't have a picture of her food and don't recall what she might have had.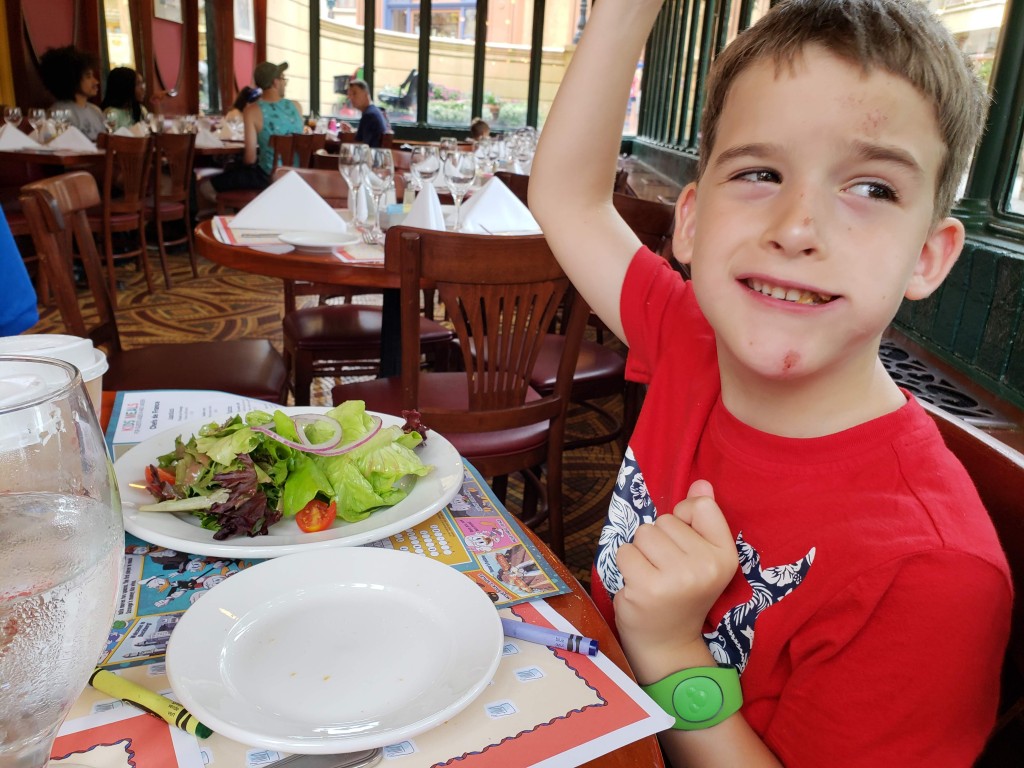 For her entree, our daughter ordered the Boeuf Bourguignon with linguine. She's a fan of high-quality, well-prepared beef and she likes noodles. So this was a hit.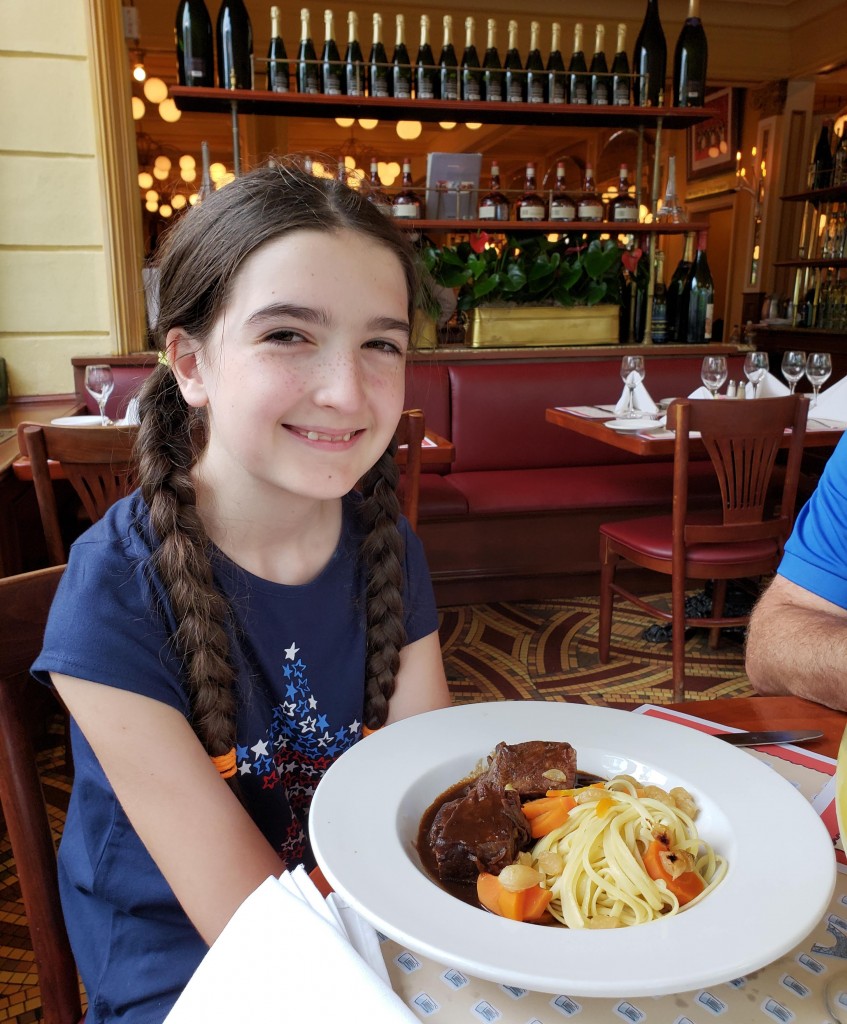 My husband and I ordered same entree, the Poulet fermier à la Layonnaise with pomme puree. The potatoes were good, but the chicken had a taste that I didn't quite care for. My husband liked it.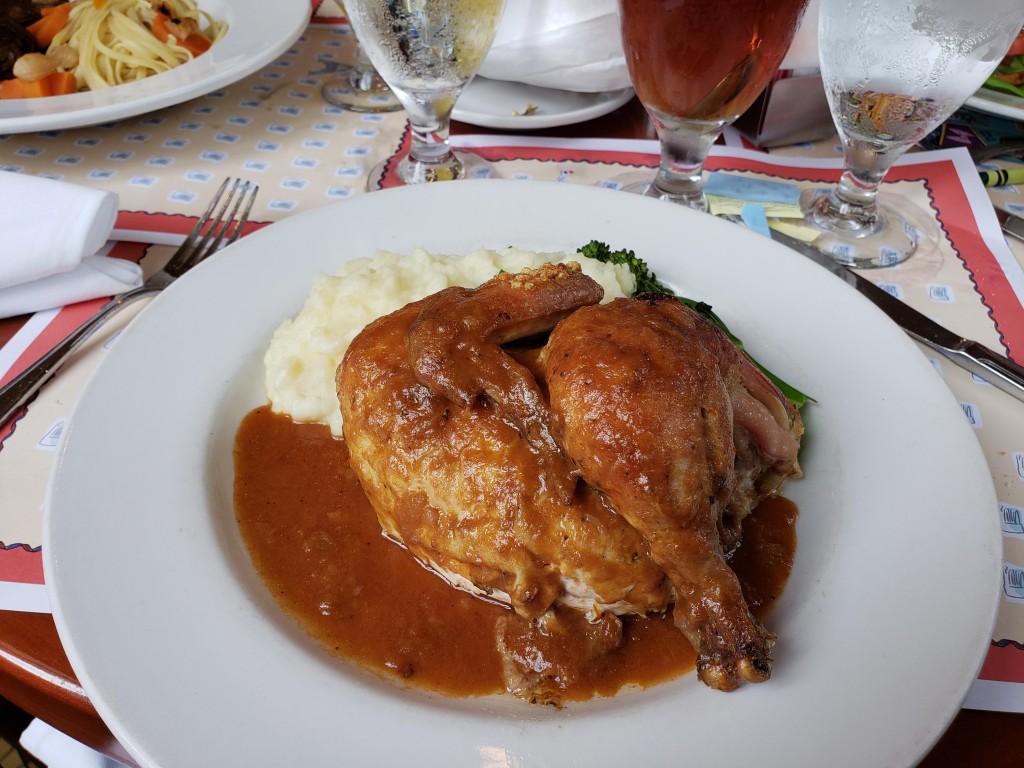 Our son had the Croquette de Boeuf en Brioche. He ate some of the fries and some of the burger patty.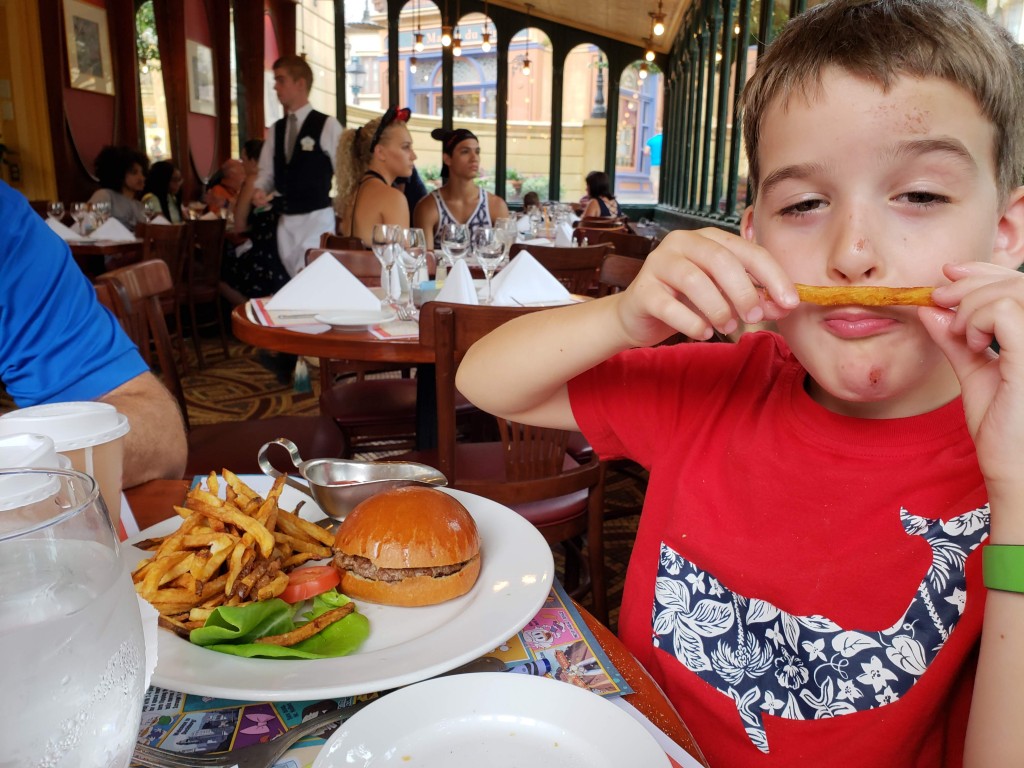 For dessert, our son chose Assiette de Sorbets du Jour. He really liked those sorbet flavors and still asks to go back to Chefs de France for more baguette and sorbet.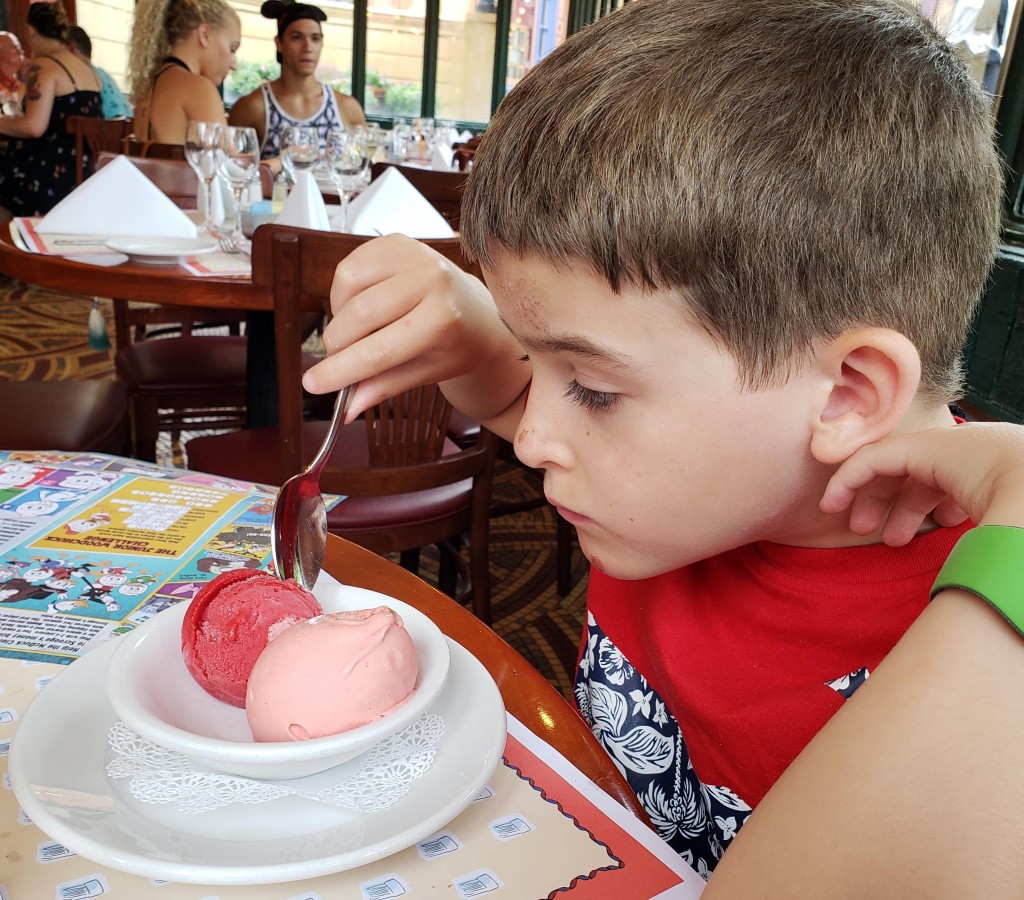 My husband, daughter, and I shared the three desserts below. The first was the Crème Brûlée.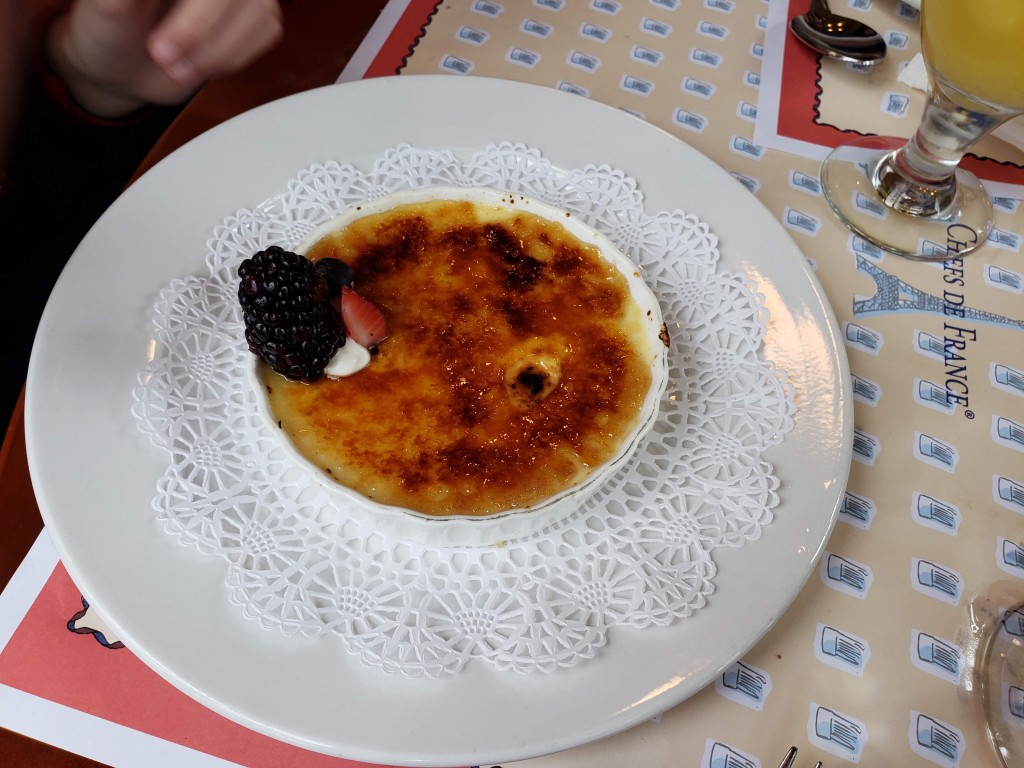 Next was the Cygne au chocolat.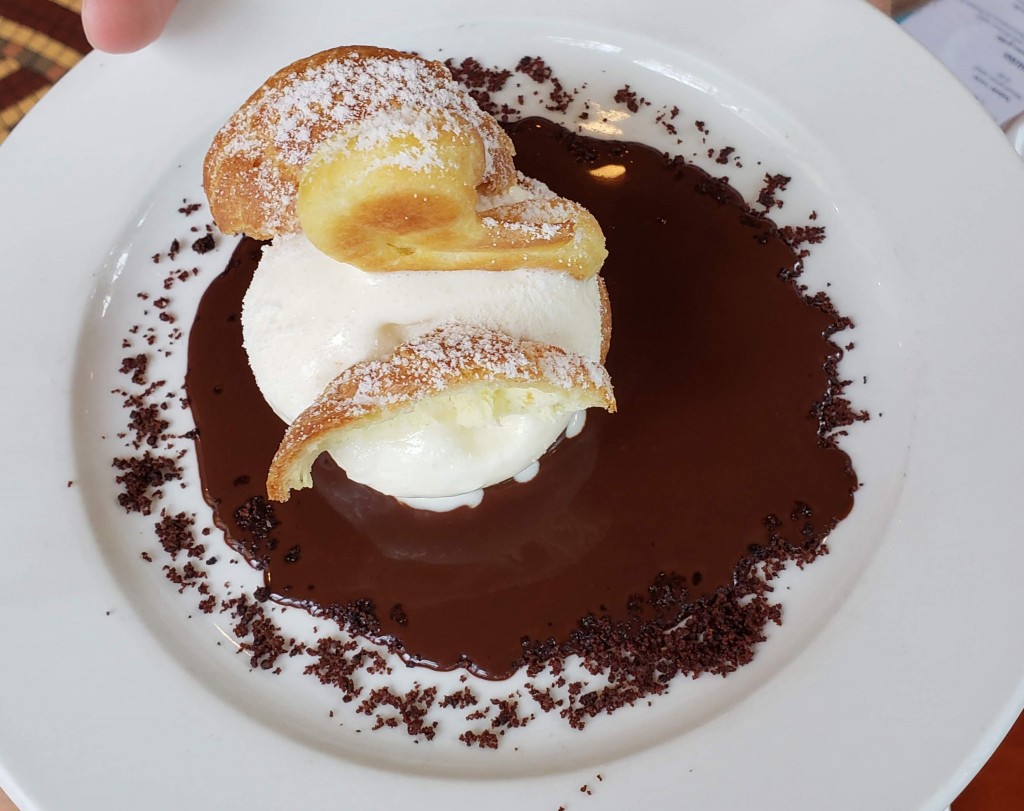 Last was the Gateau au Chocolat. From what I recall, our daughter claimed this one after her first bite.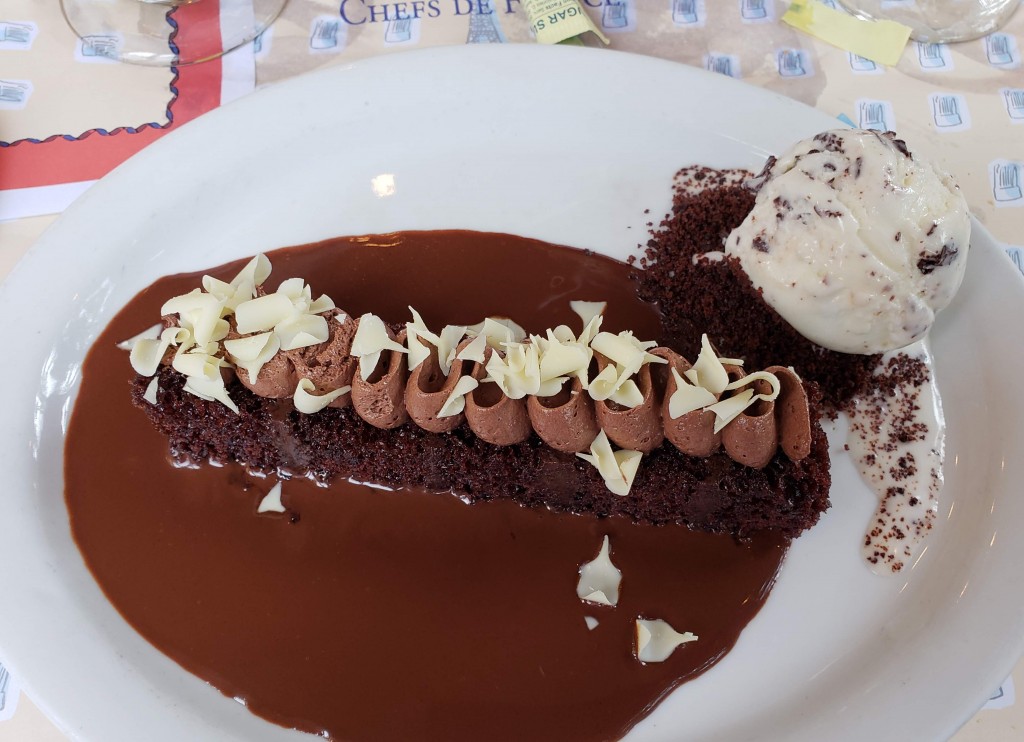 On our Christmas trip to Walt Disney World, we enjoyed the ornaments in the France pavilion that featured iconic French architecture.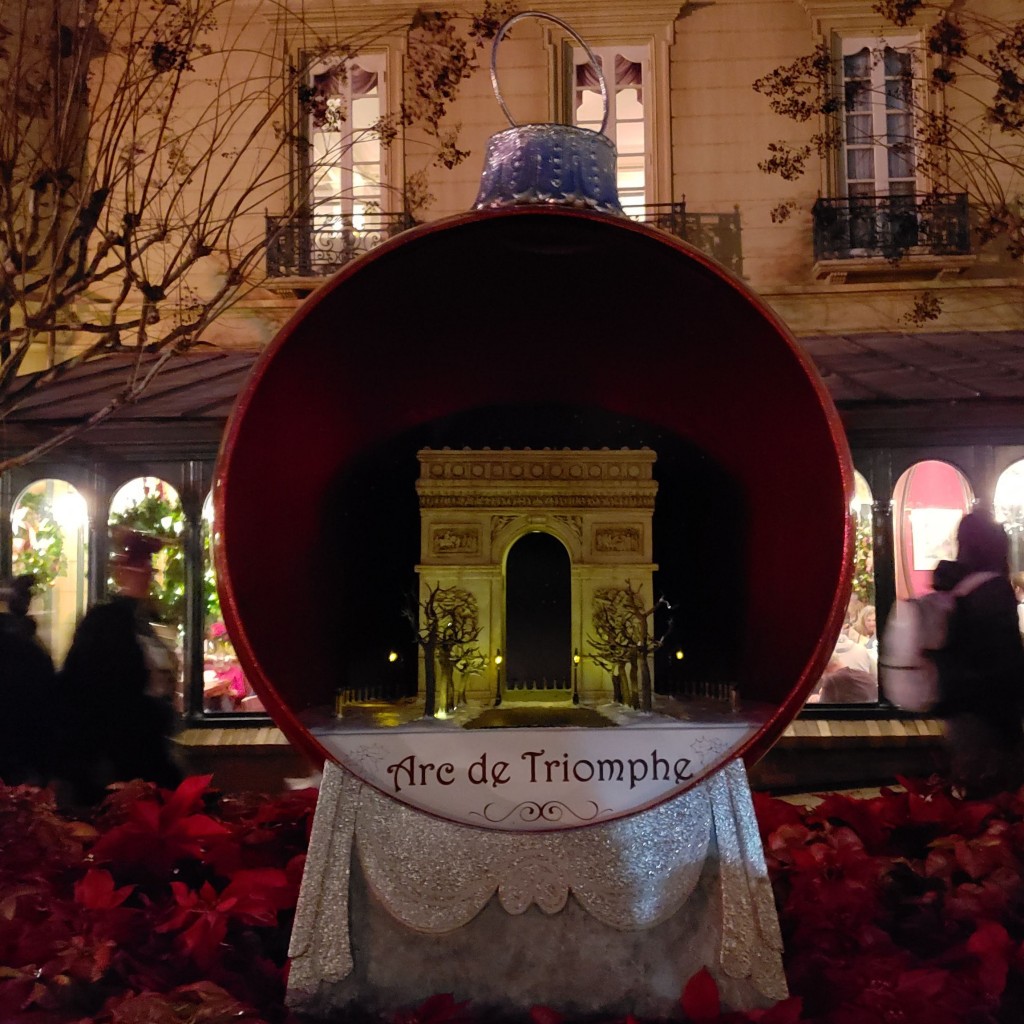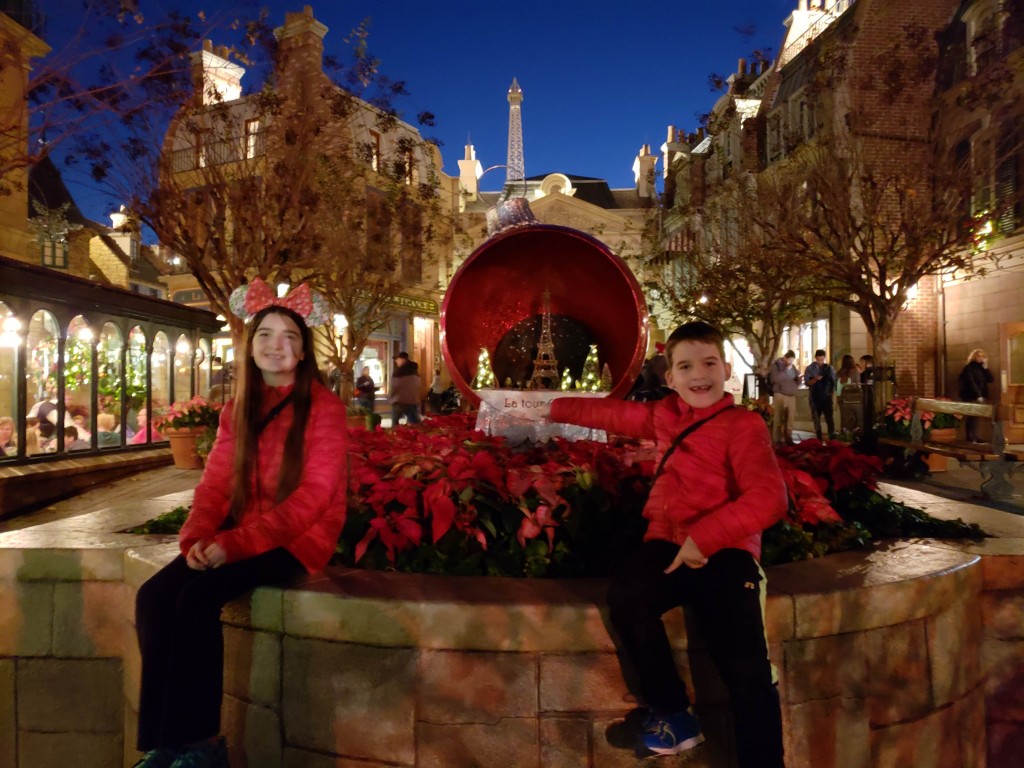 We also had a chance to meet Belle in her holiday dress. This Belle was especially friendly.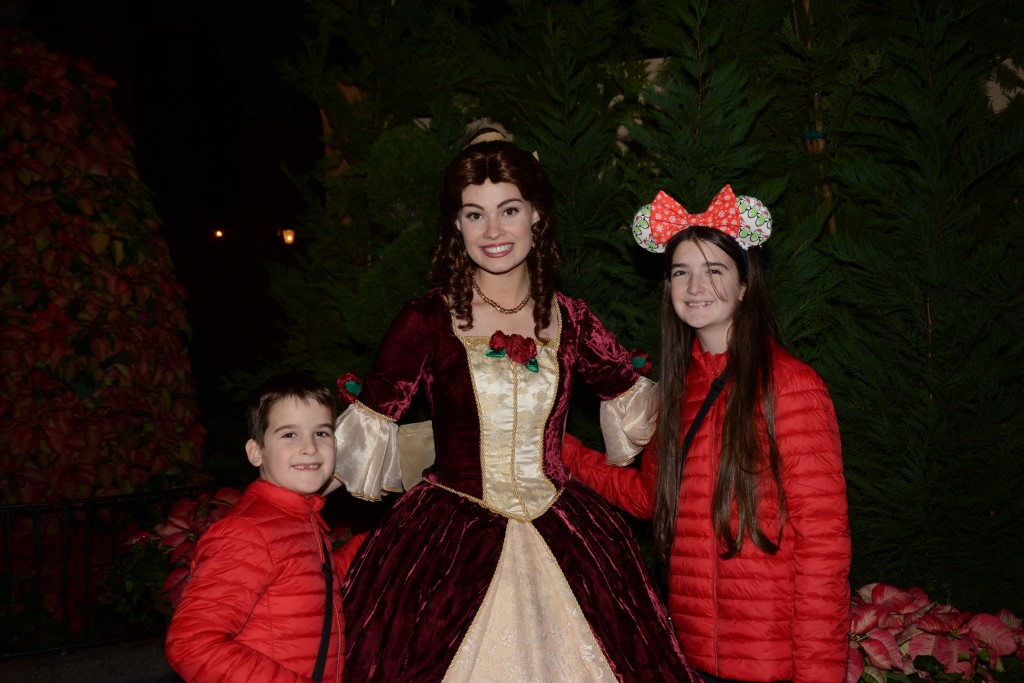 During one cold week this winter, my daughter and I started making a list of places we want to visit one day. Traveling to Paris is at the top of her list so I made France themed lunches for school. Her lunch is the first below. She had a turkey sandwich with an Eiffel Tower cut out of mozzarella cheese on top and I made the flag of France out of blueberries, pear slices, and apple slices. I included a Lego mime mini figure holding a flag pick above the little container of peanuts and I stuck picks representing a painter's palette and a fleur-de-lis to represent art from France and the French monarchy. I included a champagne glass pick, croissant pick, and macaron pick in the veggies to represent some iconic French foods. And, I included macarons for dessert, because I couldn't pack a French-themed lunch for my kids that didn't include real macarons! (I really wanted to make a baguette pick for this lunch, but even after looking through many, many Lego bins in our house, we couldn't find a Lego baguette piece

.)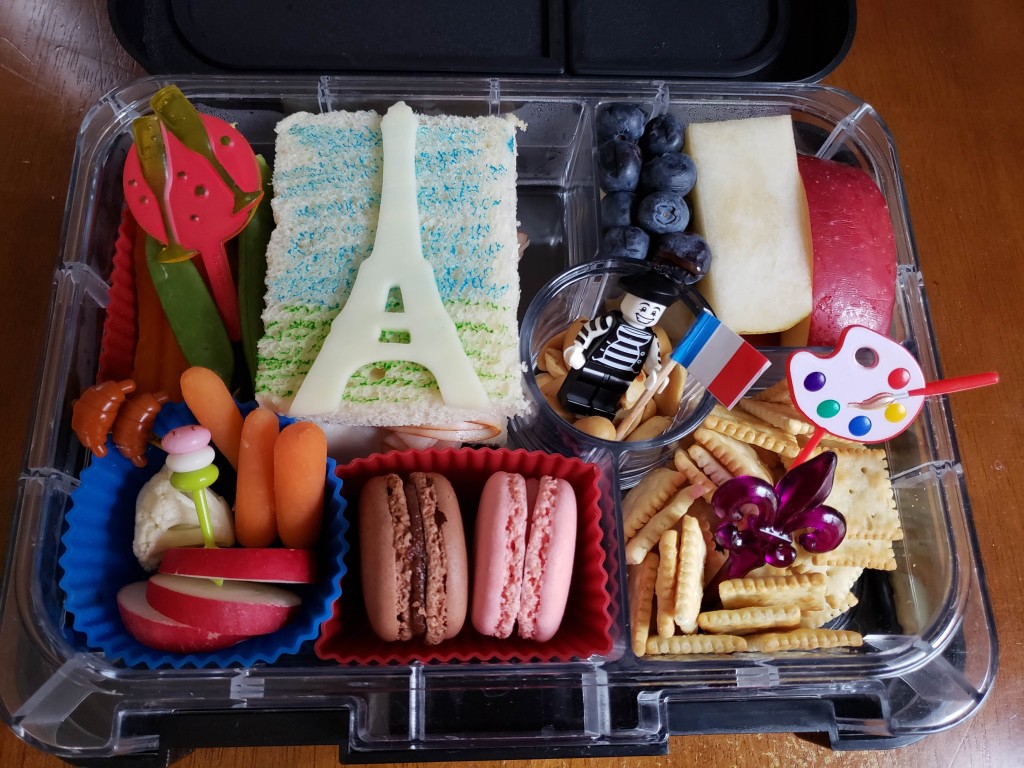 My son's lunch is below. He had many of the same elements, but his lunch included Cara Cara orange slices too. He loves that type of orange.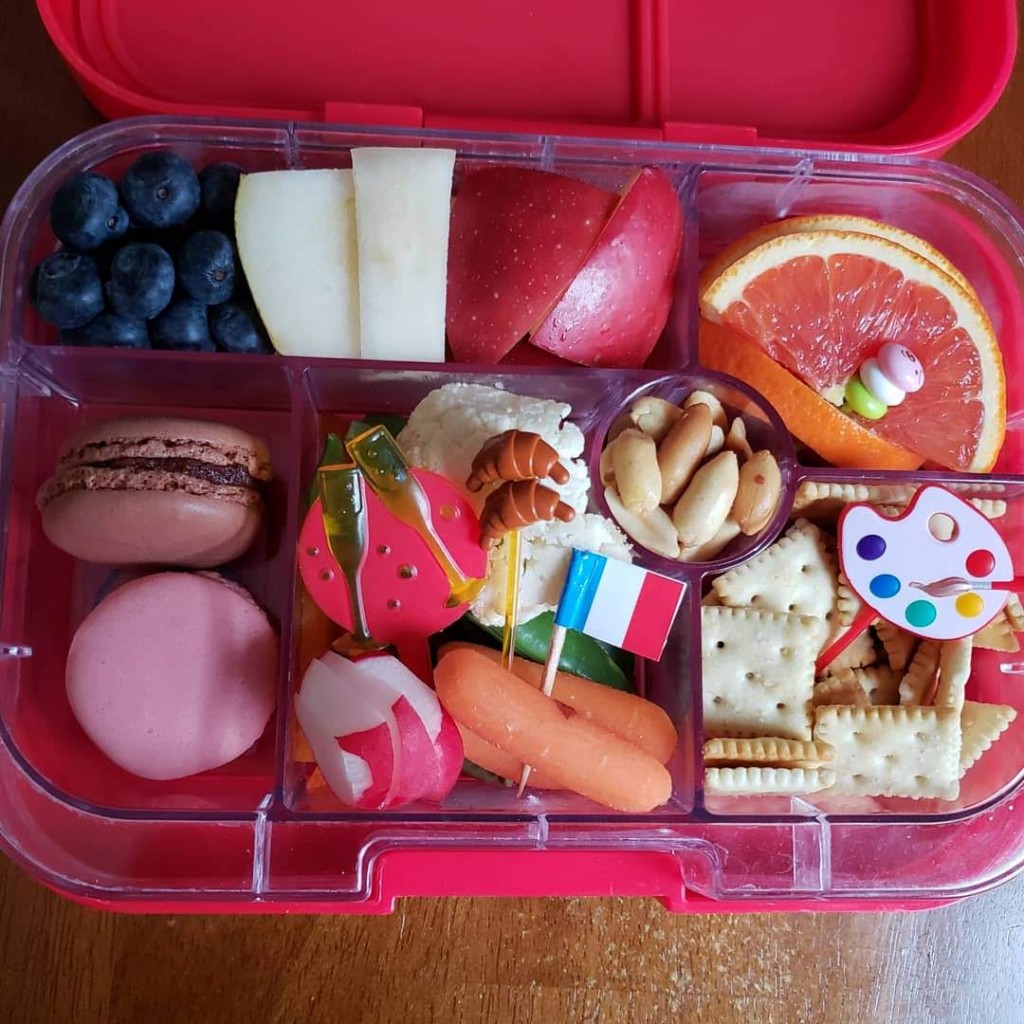 Thanks for reading. I hope you enjoyed seeing some of our memories. We hope to visit France one day. Our daughter has been wishing for a trip to Paris for her sixteenth birthday.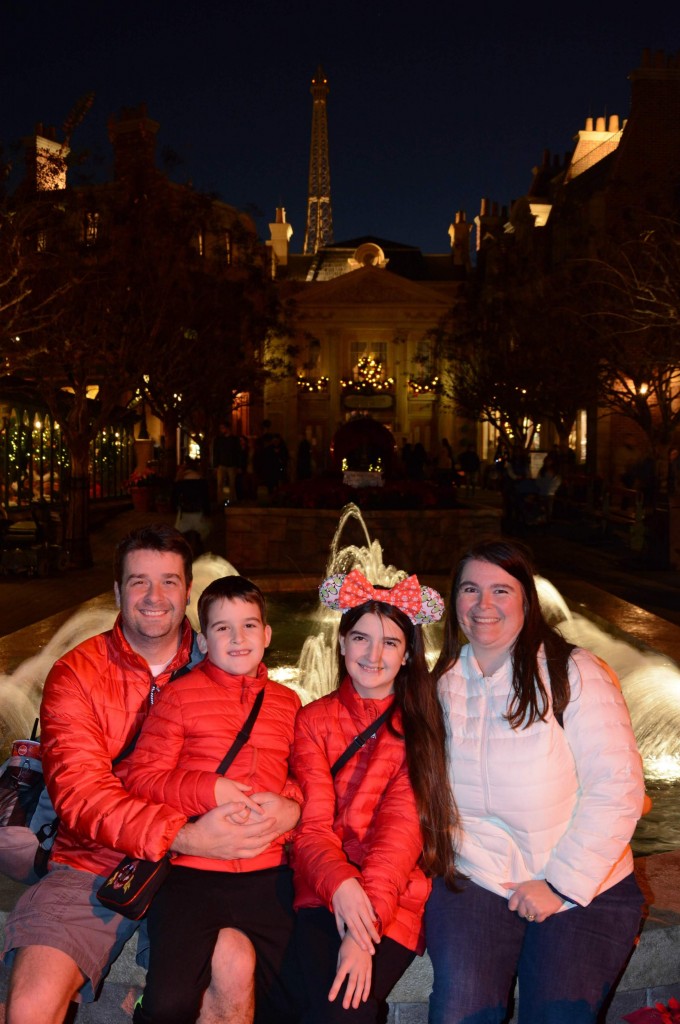 P.S. For homework on the night of these French lunches, our son read the book below on April Fools' traditions around the world. We thought the information it included for France was interesting.