This post contains affiliate links.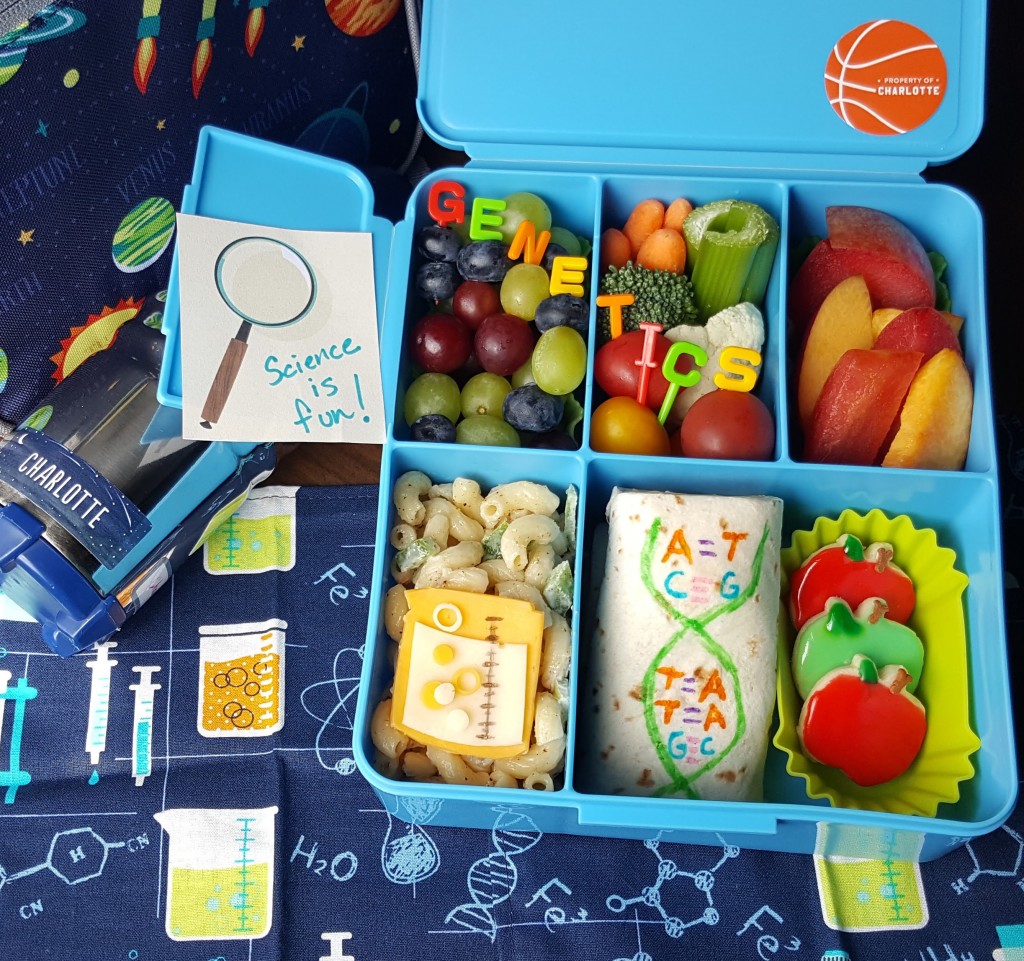 It's back to school time for us. In fact a couple of weeks of the new year have already passed. We celebrated the beginning of this new school year with a few fun lunches that I will share in posts this week. I'll start with this lunch featuring DNA since it was one of my favorites.
This year, I am teaching a new course that will focus on heredity in humans. Students will get to learn basic information about DNA, gene expression, and variation among individuals, as well as several current techniques for analysis of DNA. I am very excited about this course and grateful that I had the opportunity to attend the Teaching the Genome Generation short course offered by The Jackson Laboratory over the summer. They have developed several protocols for students to follow to learn DNA extraction, PCR, gel electrophoresis, DNA sequencing, as well as exploration of bioinformatics databases all while examining human genes. All of this is complemented by lessons built by individuals behind the Personal Genetics Education Project that facilitate discussion of genetics issues from ethical, legal, and social points. Since analysis of human genomes has become much less expensive and we are gaining new insights into genomics each day that will influence numerous aspects of our lives, I am really glad I will be about to offer this human heredity course to students this year.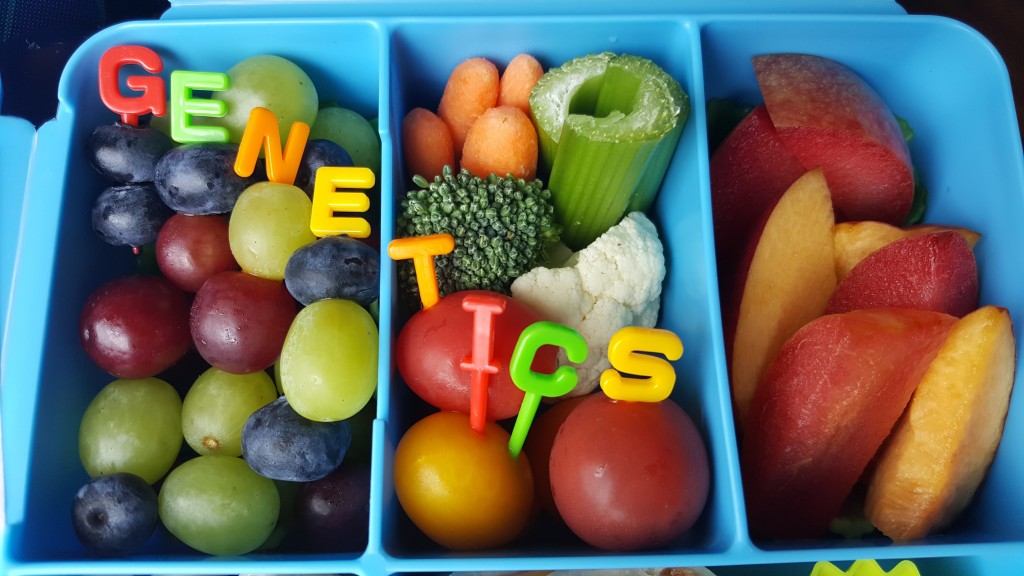 Now, on to the lunch! I packed this lunch in our blue Spencer box from Pottery Barn Kids. Across the top row of the box, I included blueberries with green and purple grapes, veggies, and slices of plum and nectarine. I used letter picks to spell out Genetics.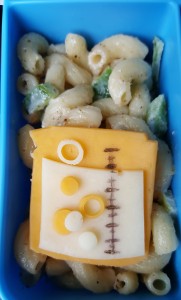 In the bottom left section, I included macaroni salad decorated with a beaker. I made the beaker with cheddar and provolone cheese. I used a black food safe marker to make marks along the side to represent different volumes that could be measured. For additional details, I used two straws to make some bubbles in the solution. Straws are great for cutting thin pieces of cheese. This only took a few seconds, but I think it turned out to be pretty cool!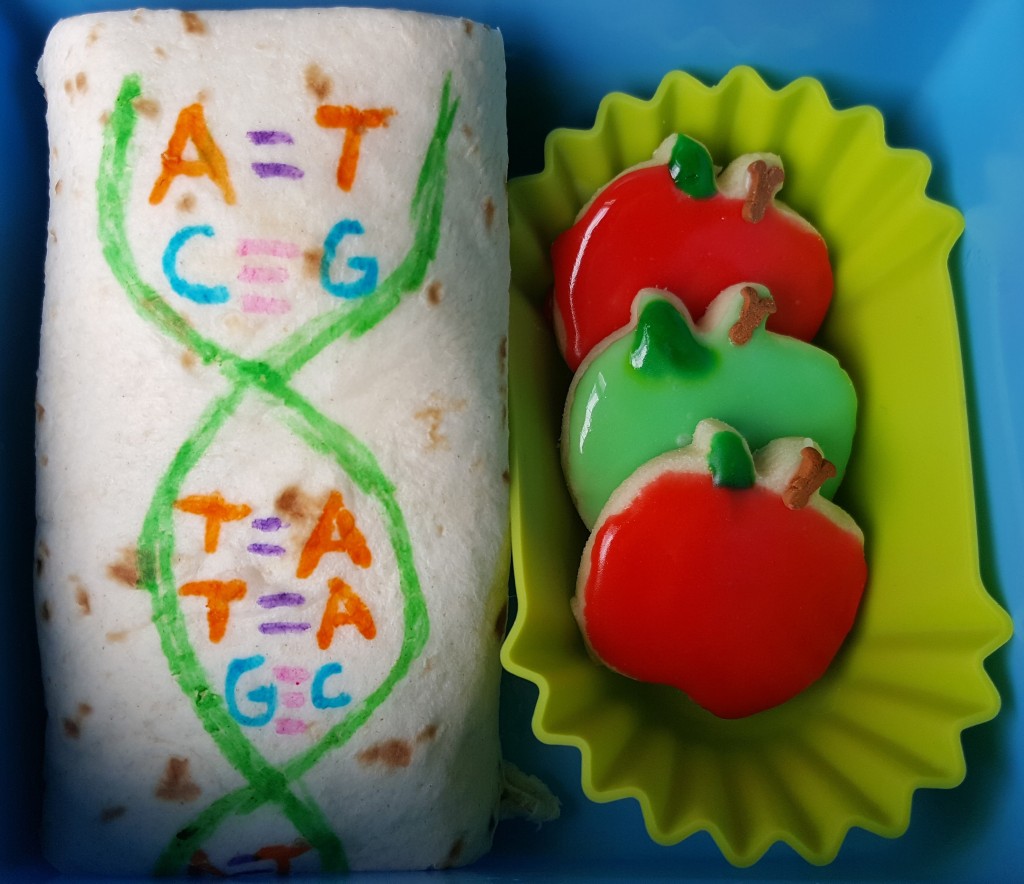 I packed a ham and cheese wrap and used food safe markers to draw a DNA double helix on it. If you look closely, you will see correct base pairing demonstrated with two hydrogen bonds between adenine and thymine and three between cytosine and guanine.

Since this is back to school season, we baked a few mini apple shaped cookies with our kids. We cut these with the apple from this set of mini cookie cutters. We followed this cookie dough recipe and this icing glaze recipe from King Arthur Flour. We made the stem with pieces of gingerbread men sprinkles. They turned out to be the perfect color and size. Our kids enjoyed making the cookies as one last end of summer activity.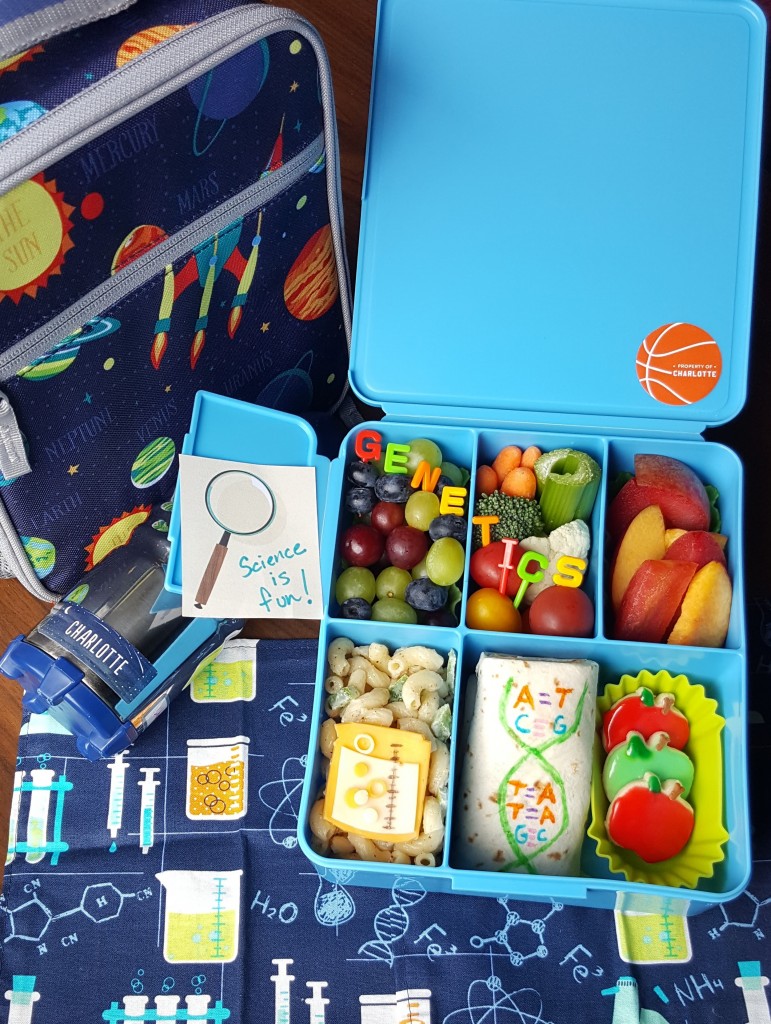 After the lunch was finished, I added a free print-at-home note from Minted. I selected this one with a magnifying glass to go with the science theme. I also included these fabulously fun fabric science themed napkins from Sew Chic Geek Boutique. I labeled the water bottle and lunch box with custom labels from Minted, and I packed everything up in our fun solar system bag.
This was a fun lunch to create and I was a happy mom when my elementary school aged daughter walked by and said, "That's DNA." I love that my kids are interested in science!
Thanks for visiting my site today. I hope you will check back later this week for some other back-to-school lunches!
Disclosure: I received the name labels, lunchbox, and lunch bag for free. The lunch design is mine, I purchased the other items myself, and all opinions are my own.