This post contains affiliate links.
Time sure does fly by! I found these photos on a draft post I started in August 2016!!! I packed these lunches when my kids were starting a new school two years ago! It is funny how time passes so quickly, yet when you see a reminder you can recall so many memories from that time period. Back then, my daughter was starting fourth grade at a new school and my son was starting kindergarten. It was a transition for everyone and we read several books to celebrate the new beginnings. Since another new school year will soon be starting, I will share some of what we read as well as the First Day of School lunches that my kids had.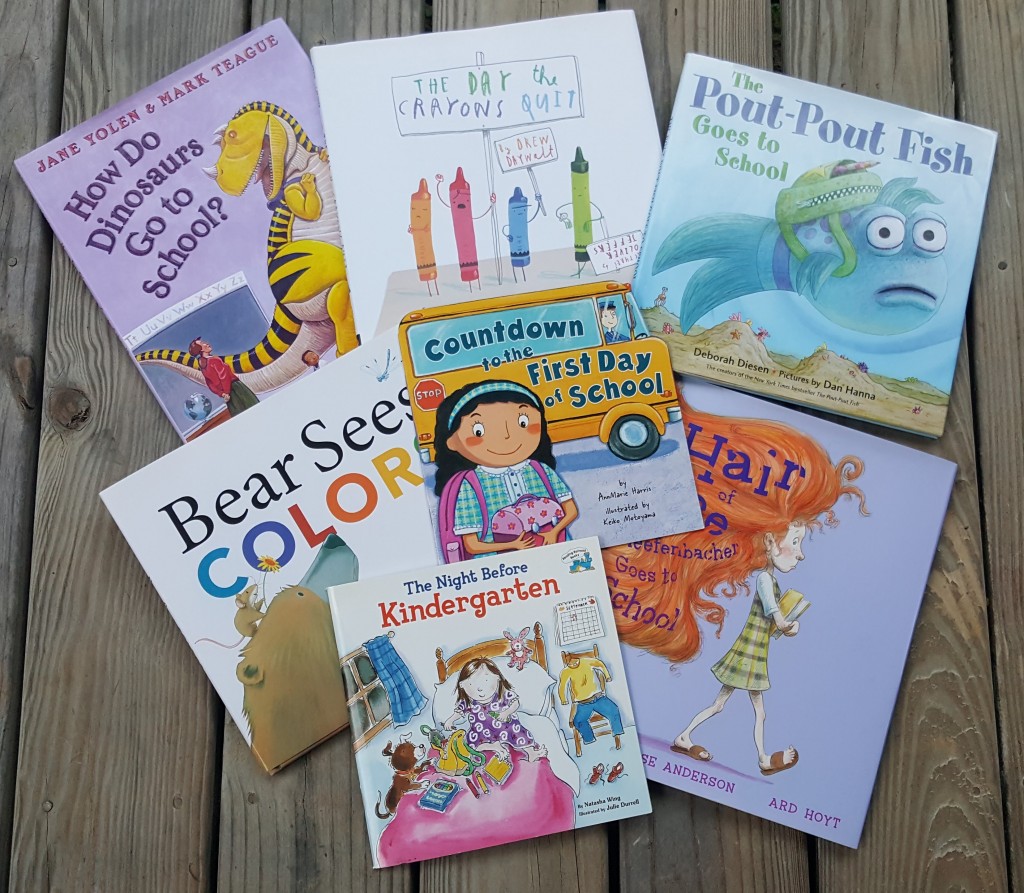 My daughter loved the "How Do Dinosaurs" books when she was a preschooler and we have kept them around the house because we all have happy memories of reading those. She was very interested in dinosaurs for several years and we have lots of happy memories tied to those times. So, reading How Do Dinosaurs Go to School was fun
When my daughter was in first grade, we discovered The Day the Crayons Quit. She loved the idea of that book and I once visited her class to read it to her classmates. For that visit, I made versions of each of the crayon characters in the book and showed them to the class as I read the story. It is a fun book and kids like seeing things from the point of view of the crayons.
We also love the Pout Pout Fish books and have them all. My kids have enjoyed reading the pages in those story that are sort of like a refrain. They repeat a little of the message and both of my kids liked saying those portions even before they could read independently. The Pout-Pout Fish Goes to School points out that you need to be in the right class for you age so that you do not feel overwhelmed.
We are big fans of Karma Wilson's "Bear" books. Bear Snores On is one of our all time favorite books; the rhyme is so clever and fun to read aloud. We read Bear Sees Colors here since color days are usually a bid deal during the first few days of kindergarten and my son was starting kindergarten.
We also read Countdown to the First Day of School and The Night Before Kindergarten. We have a big collection of "Night Before" books and while we don't always remember to read the the actual night before, they are still fun. My son has often pulled these out many times through the year and requested that we read them. (One of his favorite "Night Before" books is "The Night Before the New Baby"; I think he enjoys imagining what the night before he was born was like and gets a thrill out of thinking about the anticipation we must have had before he arrived.

The last book we read out of this set is titled The Hair of Zoe Fleefenbacher Goes to School. My daughter has always had super long hair so we can relate to this story. The rhyme is fun and the story has a sweet lesson and twist regarding how teachers and students develop an understanding and appreciation of one another with time.
Even though these photos are from two years ago, I am smiling just thinking about the fun we had reading these together. I highly recommend finding some of your own favorite stories to read around special occasions each year. I am a believer that books build memories.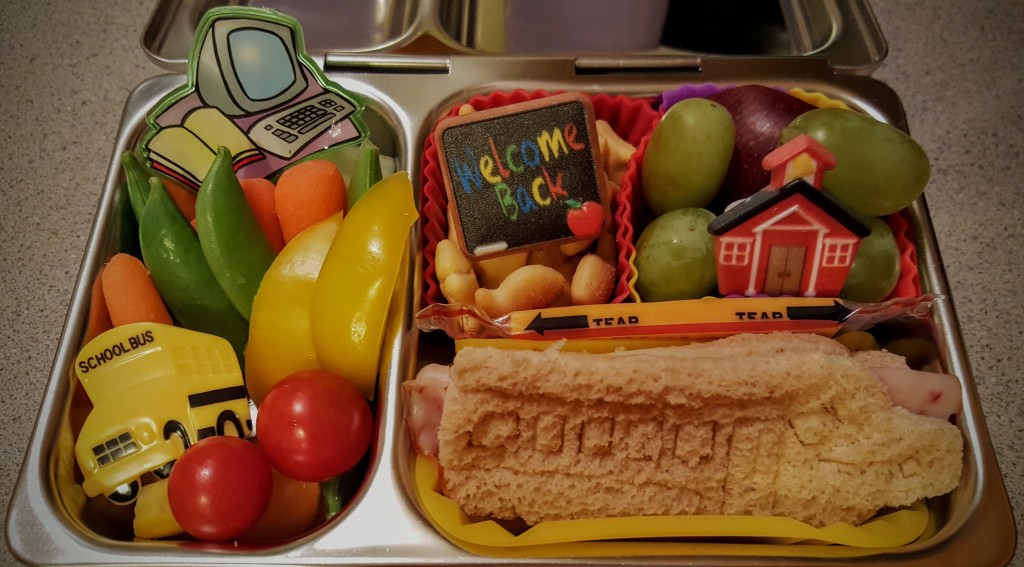 Now, onto the lunches. I recall trying to pack these lunches so that my kids would fit in and be "normal" – whatever that might be in their new elementary school. From their previous schools, I already knew that it was unlikely that other kids in their lunch groups would have similar lunchboxes or types of food. I didn't want them to be ostracized on the first day of school by what or how I packed.

I chose to pack the lunches in our Planetbox Shuttles. I figured the simple, easy to open design would work well for the first day.
The lunch above was my daughter's. Even though she is not a big bread eater, I decided to include a little sandwich on that first day because sandwiches seem like an ordinary food and I thought it might "fit in". I also included raw veggies and fruit along with a slice of cheddar cheese and some crackers. I recall that when my daughter got home that day she reported that another girl had said "there sure is a lot of food crammed in that box".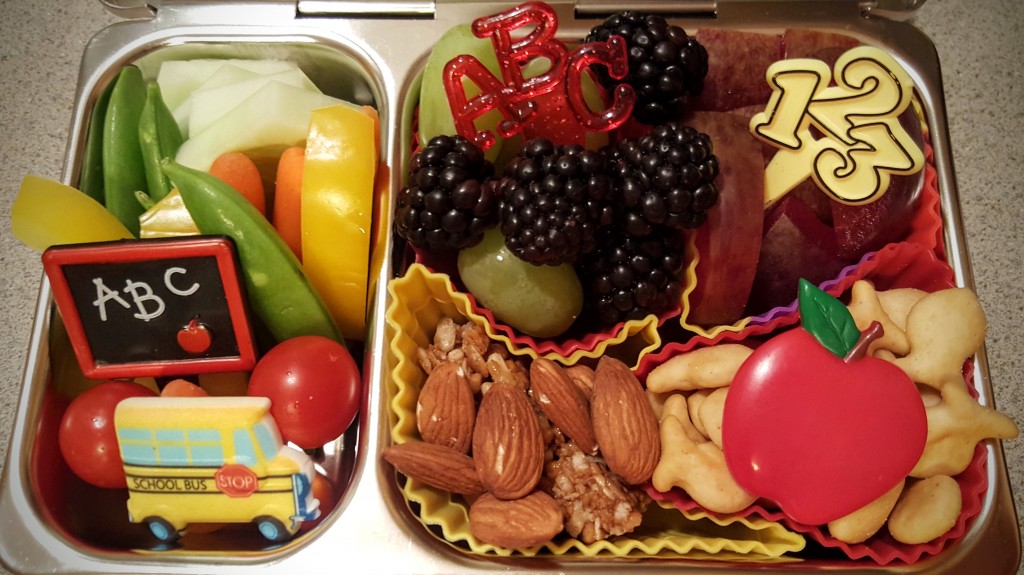 At the time, my son ate zero bread so I didn't bother with including him a "normal" sandwich.

I gave him almonds and a piece of a granola bar instead. I did include some Back-to-School themed cupcake rings and picks in each lunch.
My kids quickly became used to their new school. They both made friends and liked their teachers. Their classmates got used to their lunches and I got over worrying about how they would fit in

  (at least for the time being). Time flew by and now my daughter is moving on to another new school – a middle school. I have heard lots of other moms say that their middle schoolers are super concerned about not attracting too much attention at lunch and some say that their kids have "banned cool lunches", so I guess I might have to figure out another new normal as I prepare to pack lunches for middle school.