This post contains affiliate links.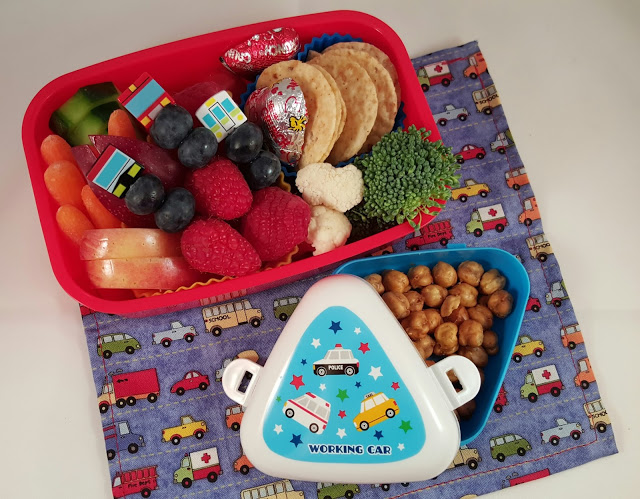 To start off this week, my son will have a transportation themed lunch. In our Working Car bento box, he has carrots, cucumbers, tomatoes, apple slices, plum slices, raspberries, blueberries on vehicle picks, cauliflower, broccoli, mini round tortilla chips, and two Nestle chocolates. In the smaller Working Car box, he has roasted chickpeas. He tried a sample of these in a store and liked them. I am always searching for additional sources of protein for him since he mostly prefers fruits and veggies, rarely eats meat, and doesn't eat cheese, so I jumped at the chance to buy the chickpeas. He requested more later during the day that we bought them so I am hoping that he will also eat them in his lunch.
My son really liked the napkins I recently purchased from Sew Chic, Geek Boutique and asked that I include them in his lunch more often. So, I pulled out this car and truck napkin which goes really well with this lunch. I hope it makes him smile during Monday's lunch.