This post contains affiliate links.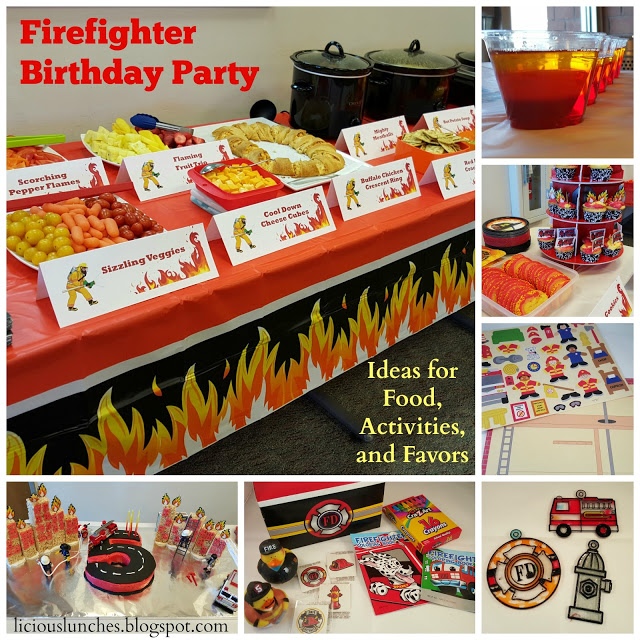 This post is a little different from my usual posts about packed lunches. It will focus on the recent firetruck themed birthday party we had for our son who just turned five. Before I get into the details of the party, let me say that as far as kids birthday parties go ours are a little more involved than some might expect. But, by no means do I think all kids parties need to be like this. I'm simply sharing what we do in case others are interested.
For us, the process of planning and preparing for a party is fun for both kids and adults. Our kids usually start contemplating their next theme months in advance and then we (mom and dad) help find ways to expand on their ideas. We enjoy searching for or making the decorations. Our kids delight in finding themed party favors to share with their friends. I look forward to planning a menu that coordinates with the party theme. My husband takes on the challenge of preparing a creative cake. And, we all love working as a team to pull everything together the day of the party.
Having this type of party also offers us a chance to get our extended family members together outside of just Thanksgiving and Christmas. We appreciate the effort our family members make in taking time to come to our kids' parities and we like having the chance to share good food and fun times with them.
My son has collected firetrucks since he was two. He loves all styles of them and knows lots of details about firetrucks from watching several videos about fire departments. So, when picking a theme for his fifth birthday party, he was happy to settle on firetrucks.
I collected ideas on this
Pinterest Board
and we made plans together as a family.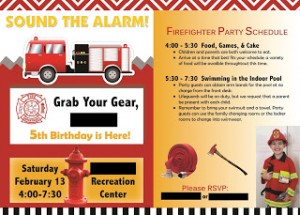 For the invitation, I wanted to incorporate ideas from a few others I had seen online and I wanted to include a photo of my son in one of his firefighter costumes. So, I started with the basics from this
free invitation template from How to Nest for Less
. I then modified it to include the details for our party and my son's picture.
Since the party was firetruck themed and ended up falling on a day with record low windchill values, I selected several spicy recipes for the food. I purchased these
fiery tablecloths
and really liked how the flames looked when the tables were filled.
The menu included the following. You can click each link to see the recipe I followed.
Hot Potato Soup (This soup is always a crowd pleaser. I have made it many time over the last several years and it is nearly always all gone no matter how big the pot of soup is.)
Mighty Meatballs (I use grape jelly instead of grape juice.)
Jalapeno Popper Dip with Pita Crackers (I skipped the cracker topping since I was serving this from a crockpot with pita crackers on the side.)
Spicy Mac & Cheese (Don't fret over the title of this one; it really wasn't spicy.)
Wonton Taco Cups (These were easy and popular.)
Jalapeno Pillows (Party guests liked these. They looked fancy, but they were not difficult to make.)
Buffalo Chicken Crescent Ring (All of this was eaten. I made it ahead of time and baked it onsite at the party.)
Cool Down Cheese Cubes (just cheddar and colby cheeses cut into cubes)
Red Hot Crackers (I made these the day before and the leftovers were still good days later.)
Doritos "Flames" (on request from my son)
Cheetos "Firesticks" (Based on an idea I saw on Catch My Party.)
Chili Spiced Almonds (These were tasty and very easy to make ahead of time.)
Flaming Fruit Trio (I used strawberries, mango, and pineapple because they were available as red, orange-ish, and yellow fruits in season at the time.)
Scorching Pepper Flames (I used red, orange, and yellow bell peppers. These were easy to prepare ahead of time and my kids love crunching on pepper strips.)
Sizzling Veggies (I used cherry tomatoes, carrots, and sunburst tomatoes because I wanted the tray to be red, orange, and yellow).
Below you can see the trays of fruit, and veggies alongside the crescent ring. I ordered these
plate and napkin sets
because I wanted the look of a real firetruck rather than cartoonish trucks I saw on other sets. I also ordered orange plastic
forks and spoons in the 100 piece sets
to ensure we had enough on hand. I was pleased with the quality of plates, napkins, and silverware.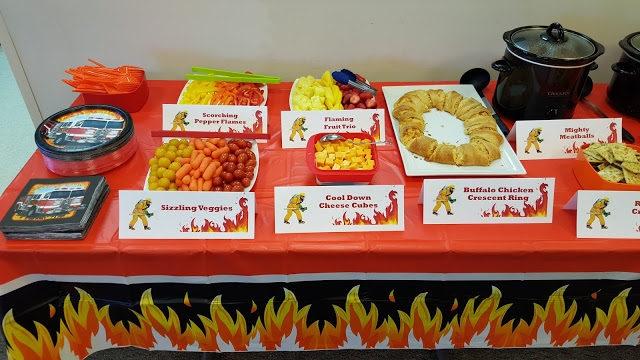 Many years ago (close to ten now) I started making food signs when we had Halloween parties. They started out as a simple way to label the food so guests would know what was in the crockpot and wouldn't be afraid to try something new. I soon realized that adding clipart to these is a quick, easy, and inexpensive way to carry through with the party theme and add decoration to the food tables. Sometimes, I use the same images on all of the signs and other times I use a different image on each sign. My daughter wanted to provide input for these and suggested a firetruck spraying water on the flames. We had trouble finding a truck spraying water at the right angle and eventually settled on a fireman instead.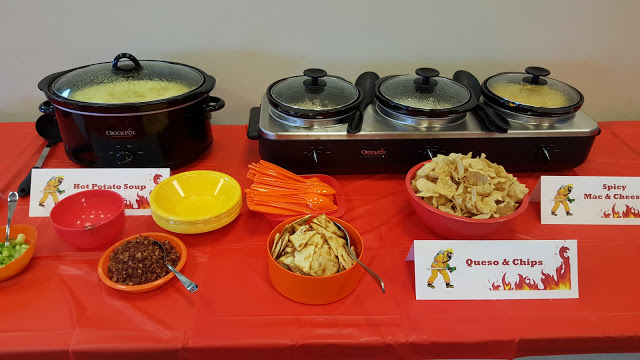 I ordered these
plastic bowls for the soup
. Sometimes when we have parties, we forget that we need bowls and then have to make a last minute trip to the store. Ordering ahead helped me avoid forgetting and allowed me to pick a color that matched the theme.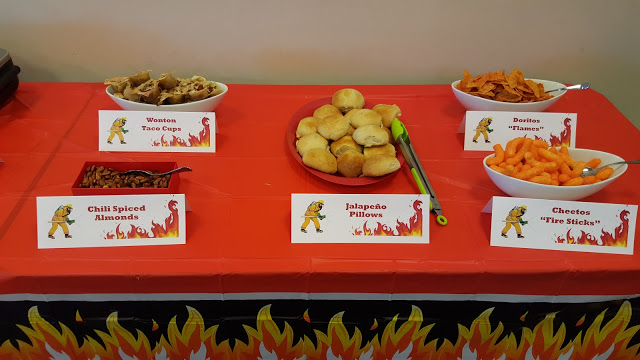 And, because I'm crazy over the theme

you might have noticed that I served most of the food in red orange, black, or white containers. Years ago, we bought a white porcelain bowl and platter set for $20 at a local price club. It has been so useful for parties and packs away easily. Our is similar to
this one
and
this one
. I also have these stacking containers in pink, orange, and yellow in a
small round
,
large round
, and
square shapes
. I find that I can use sets like these and crockpots for most of the food and then just look through my cabinets for containers or bowls that match the other main colors of the party.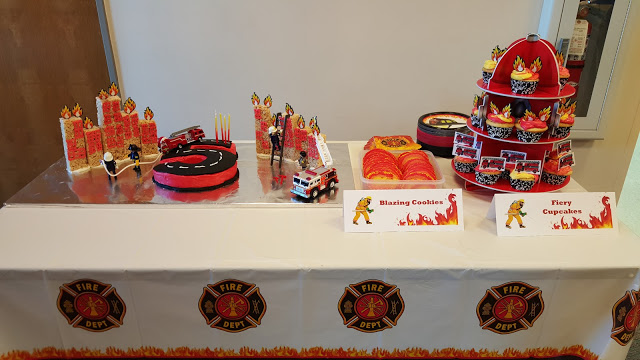 I ordered
this tablecloth
for the dessert tables and cut it into two pieces.
We had this
number five shaped pan
from my daughter's fifth birthday a few years ago so we used it for my son's cake. I baked a chocolate marble cake in it and then froze the cake before "dirty icing" it with white icing and then placing it back in the freezer.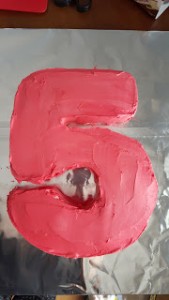 We then covered it in red icing and cut out black fondant in the shape of a number five to simulate a road.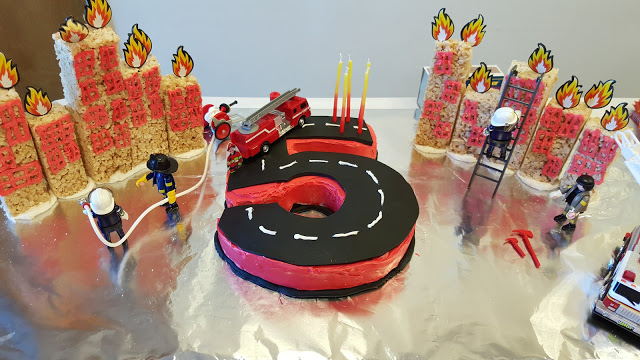 The dessert table included the cake along with the following items: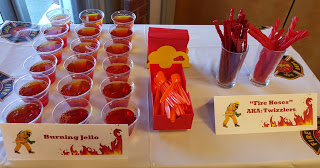 Closeups of the cookies and Jello are below.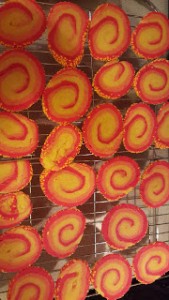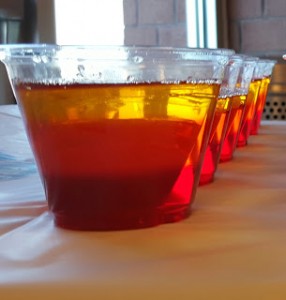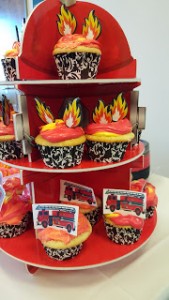 The price on this
fire hydrant cupcake stand
dropped on Amazon the week of the party so we bought it and ended up being happy we had it to add to the table. We also ordered these
flame cupcake picks
and
edible rice paper firetrucks
 (Order ahead if you want these. Ours shipped from Germany.). I attempted to follow 
this method from Beki Cook's Cake Blog
 to swirl red, orange, and yellow icing on the cupcakes, but I now realize I need to invest in real piping tips and bags to really pull it off properly.)
We also had water, Capri Sun, and soda available as "Fire Extinguishers".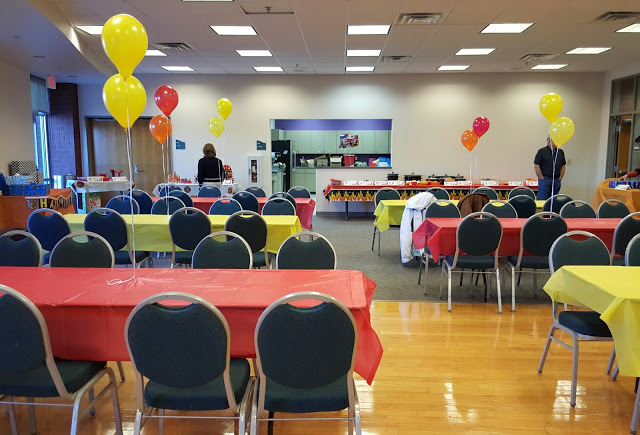 We kept the decorations pretty simple at this party since we had a lot going on at work and school in the weeks before the party. Sometime we make decorations for our parties, but this time most were purchased. I bought
yellow
and
red
tablecloths and alternated these on the tables where guests would sit. We taped yellow, orange and balloons at the center of these tables. And, we also had these
firetruck themed balloons
.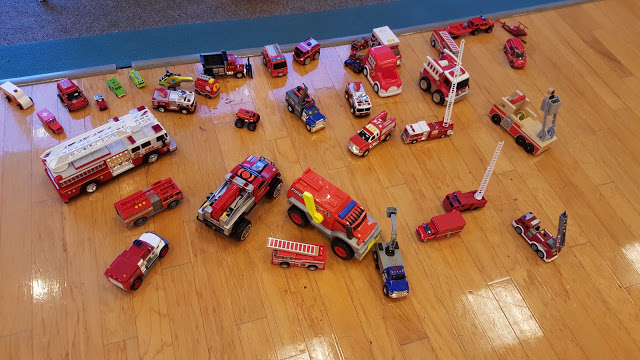 We brought my son's firetruck collection for kids to play with. We have found that bringing along toys coordinated with the party theme provides an easy, no cost activity for younger party guests. They can play when they first arrive, while adults are eating, or during gift opening. The toys offer unstructured, flexible fun for kids.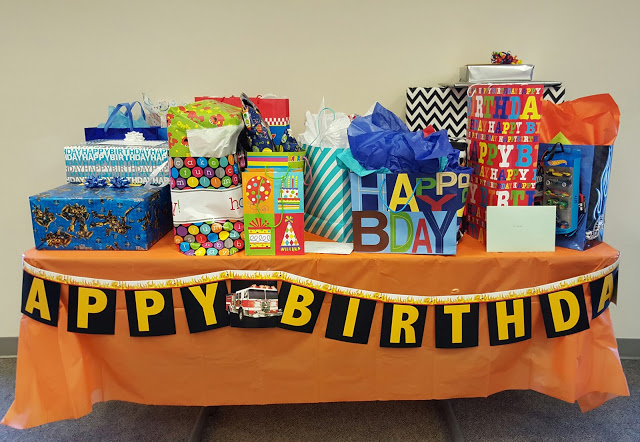 I bought this firetruck Happy Birthday Banner since it matched the plates and I didn't think I was going to have spare time to make one like I sometimes do. We used it on the gift table with an orange tablecloth.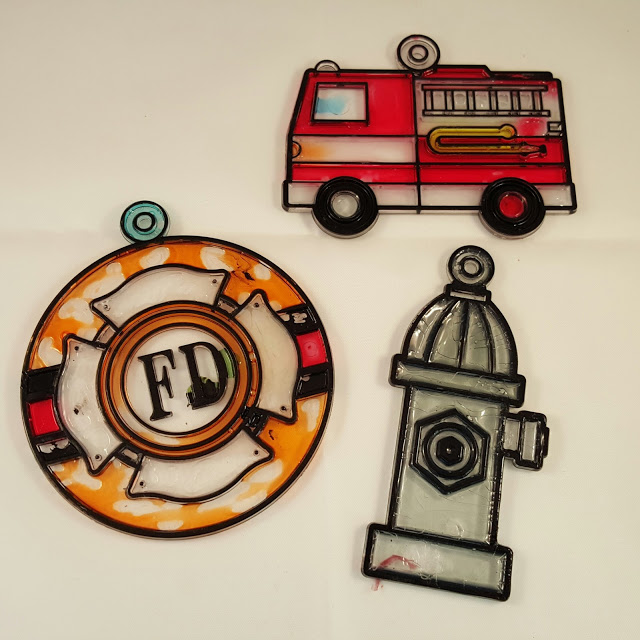 Guests who wanted to had the option of painting firetruck themed suncatchers or making a firehouse sticker scene.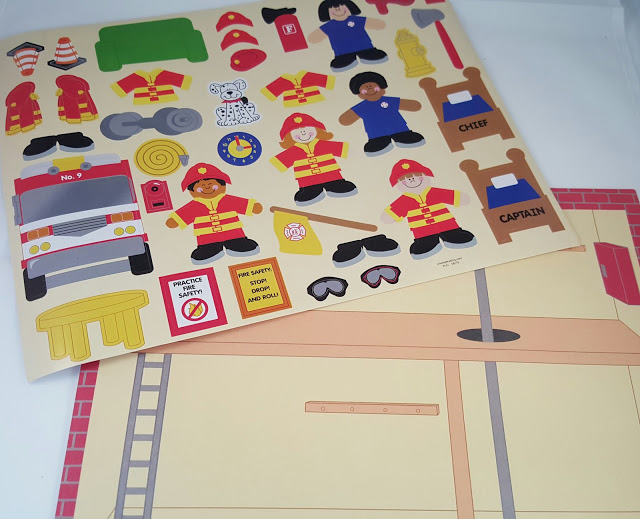 Since we invite family members and our kids' classmates to their parties, we usually have a wide range of ages present. Therefore, we usually try to offer party favors tailored somewhat to both younger and older kids. This time, we bought these favor boxes and these firefighter hats. The boxes to the left were for one age group and those to the right were for another.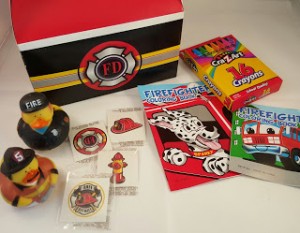 The boxes for the younger kids contained these items along with some candy. Kids seem to enjoy
temporary tattoos
 and
rubber duckies
or any kind of water toy usually work well as favors because kids get to swim in the indoor pool after the food, games, cake, and gift part of the party is over. And usually it's easy to find
little coloring books
or sticker books that match with the theme of the party. The boxes for the older kids had some of these same items and some different, such as mechanical pencils in place of crayons.
Like I said at the beginning of the post, I don't think a party has to be this involved to be great. Our kids often attend more low key parties that are just as much fun. I think everyone should celebrate birthdays in a style of their own choosing. Birthdays are great opportunities to celebrate with loved ones!